Little Helper Tower
We are in the process of making Alex something similar to a Learning Tower.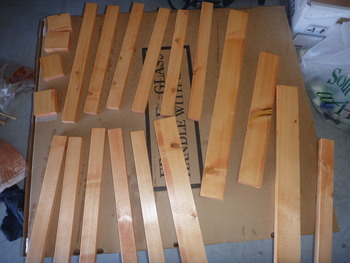 Hopefully in the next few days these pieces of wood (and some not pictured) will turn into the desired item. It will offer a secure environment for Alex to participate in kitchen activities. Right now he wants to drag a chair around and stand in it. Since we don't allow this, one of us usually ends up holding him so he can see what we are doing.
A Learning Tower will cost you around $200. Our project cost around $40 (wood, stain, polyurethane, screws). I will post pictures of the finished project. Plans for the Little Helper Tower can be found on Ann-White's website. I also have plans to make Alex a picnic table.
In an hour or so I can add some more polyurethane to the wood. I would love to complete this project by the weekend.