Father's Day Gift II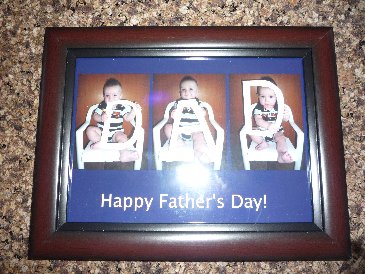 Just like the first Father's Day Gift that I posted, I think that this one will become a tradition too. I plan on making one of these each year. The original idea came from Brassy Apple. You could certainly take three 4x6 pictures and print them out. I was going to do this with the same frame that I used to make the first gift, but I decided to do something a little different. I used the collage print function (5x7) at Wal-Greens and bought a 5x7 frame. The collage print allowed me to easily add a title to the print. The lady at the photo counter commented on how cute the picture was. Oh, instead of buying the letters I just cut out some white corrugated cardboard that I had around. I was just going to cut the letters out of paper, but Alex loves to crinkle paper up. The entire project cost less than $3.00!
Please ignore the terrible photography. In case you are wondering, in the first picture he is biting on the "D". In the second picture he is holding the "A" and smiling. Finally, in the third picture, he is looking through the "D". I ended up taking around 30 pictures to end up with the three that I ultimately used.