New Year and Pre-New Year Activities
We have been hanging out relaxing the past few days. A couple of days ago, Gabe and I attempted to take the Aerospace Maintenance and Regeneration Group (AMARG) tour, but apparently you have to get there at the crack of dawn to get tickets. Okay, not really the crack of dawn, but you do need to be there right when the Pima Air and Space Museum opens. The AMARG tour is a guided tour of the aircraft storage facility on the Army base.
So, instead of the AMARG tour, we each went for a much needed haircut and I went for my very fun shots. Speaking of fun stuff, Alex went to the dentist for the first time on the 28th. Everything was fine, but he didn't really enjoy the visit. I guess one good thing about the screaming was the dentist could see all of his teeth.
We decided to go to the AMARG tour on New Year's Eve Day. It was a lot of fun. I really liked the fun facts that the guide gave us about the planes during the tour. There are close to 5,000 planes, so he gave us the spiel about the more interesting planes.
After the tour, we went to Color Me Mine and Alex had a blast painting a plate.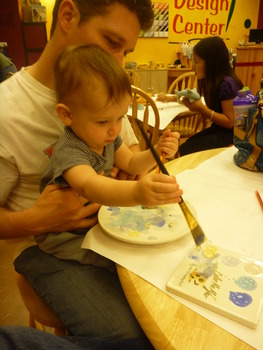 He likes to get his own paint with the paintbrush.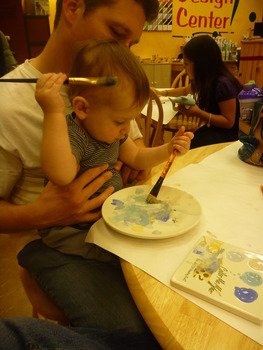 He also likes to paint with a paintbrush in each hand.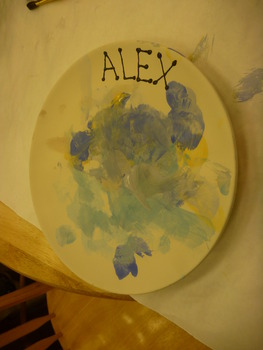 Here is his plate before glazing and firing (The "Alex" was done by me). I will post a picture once I pick it up from the studio.
We stayed home for New Year's Eve. Alex went to bed and Gabe and I watched the ball drop in New York. This year we decided to eat a grape with each stroke of the clock. We don't have any clocks that chime, so we just ate the grapes quickly.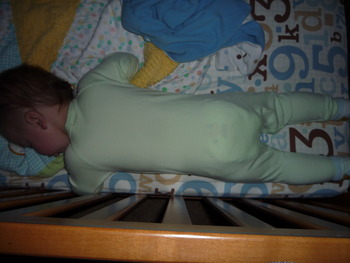 Alex a few moments after midnight. You can check out his picture from last year here.
We had Belgium Waffles for breakfast on the first and Gabe opened his presents. The mini-Alex for his desk was my favorite.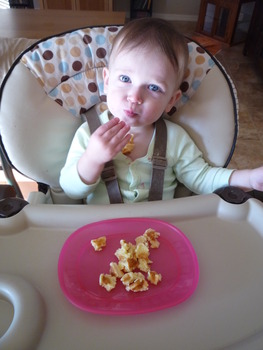 Alex enjoying a waffle.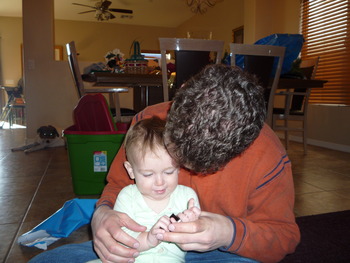 Gabe with Alex and mini-Alex.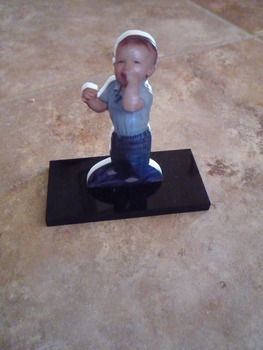 Mini-Alex.
I purchased the mini-Alex photo sculpture from Zazzle. I think it will make a cute addition to his desk at work and it is definitely different from a picture in a frame. I also ordered and ornament in the same design. I really love them both. I will definitely order them again once Alex is a little older. A family picture would be cute too.