No Sew Applique Onesies
On Thursday, our friend Aaron flew in to see us. Before Alex and I headed out the airport, I started working on some decorated onesies for Alex. I have been meaning to snaz up his plain white onesies for a while, and what better inspiration than the need to pick someone up at the airport. You can check out the tie onesie here. I have also included a couple of t-shirts that I sent to Maddex for his first birthday. These are really easy to make. Basically, you just follow the directions on the heat and bond package. You can either purchase the type that you sew or the no sew variety. The first tie that I made for Alex required sewing. The rest of the onesies/shirts were made with the no sew variety. To find patterns I used coloring books or animals off of already existing clothes. The internet is a great resource too. For letters or numbers, find a font and size you like and print it out.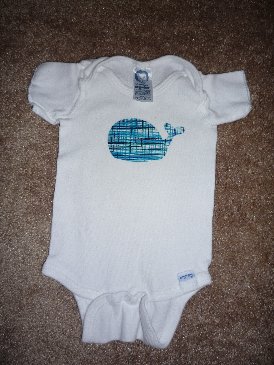 Whale Onesie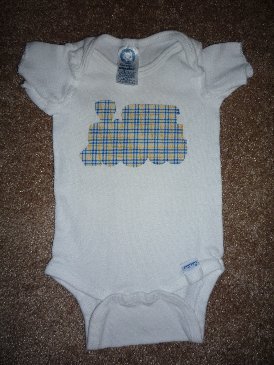 Train Onesie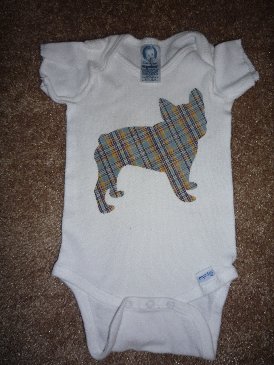 French Bulldog Onesie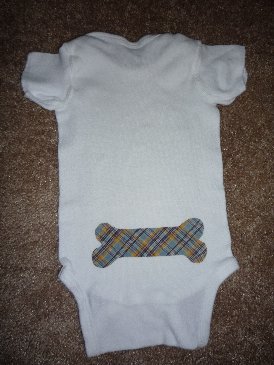 I added the bone to the back of the French Bulldog Onesie.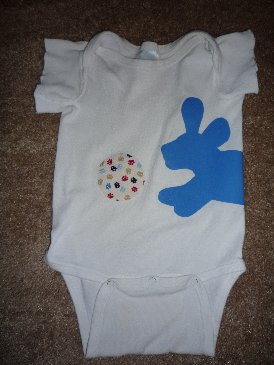 Dog chasing ball Onesie (front).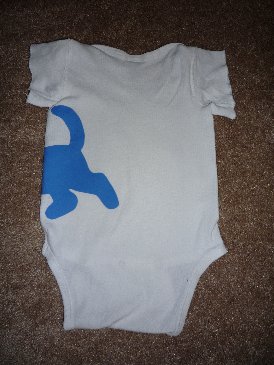 Dog chasing ball Onesie (back).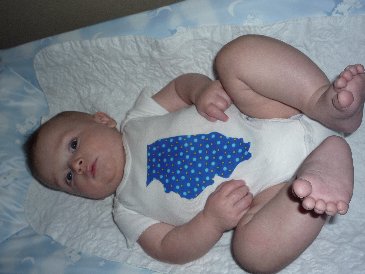 Alex modeling the State of Illinois Onesie.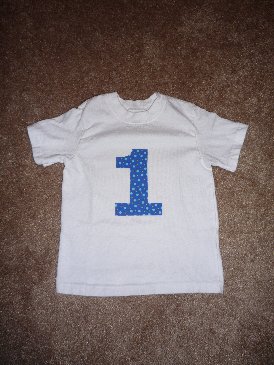 Maddex's 1 t-shirt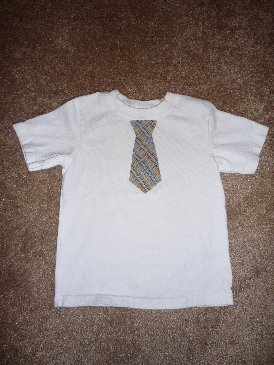 Maddex's tie t-shirt
1. Pre-wash fabric and clothing item.
2. Iron fabric and clothing item.
3. Press a section of heat and bond onto the wrong side of the fabric for a couple of seconds.
4. Trace your pattern onto the heat and bond paper. Remember that you will need to flip your pattern horizontally. If you don't, then your letter or number will come out in a mirror image to the desired outcome.
5. Cut out your pattern and remove the backing.
6. Press the pattern onto your fabric (for about 10 seconds) and allow to cool.
I use an iron set on cotton with no water.
If the applique starts to come off after washing, press with a hot iron to reapply.
I wash the clothes in cold water on the delicate cycle and I hang to dry.