Football with Tags
The original idea for football with tags came from Grace Violet. I changed it up just a bit. For some reason I did not take a lot of pictures, so visit Grace Violet for a tutorial with very helpful pictures.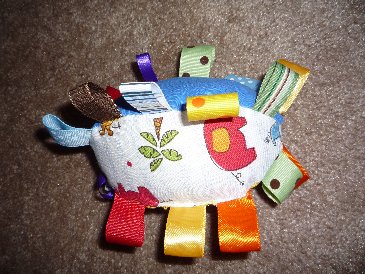 1. Cut out four convex lenses from your choice of material. Mine were 7 inches long and 3 inches across. Two of the lenses had an animal print and there were one each of solid blue and solid yellow material.
2. Pin ribbon (4 inches in total length folded in half) between two of the lenses with the wrong side of the material facing each other and the edge of the ribbon lining up with the edge of the material. Sew along the side with the ribbon. Do this with the other two pieces.
3. Next, pin two of the unattached sides of the "lenses" wrong sides facing each other. Don't forget to place ribbon in between the material.
4. Repeat step three for the remaining two unattached sides, but leave a space without a ribbon so you can stuff the toy. I left my space the middle and then sewed a ribbon into the opening.
5. Stuff the football with your choice of filling. I also placed four jingle bells inside of the football.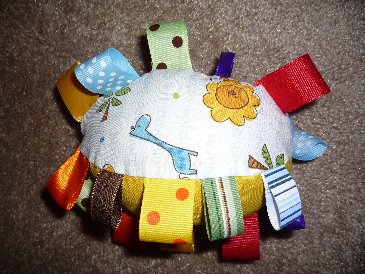 I washed and ironed all of my fabric and ribbons before beginning.
I had 20 ribbon pieces for each football.
This idea could be used to make blocks, pyramids, circles, or other shapes.
This was also sent in the package for Maddex's birthday.