Fun Friday
Last Friday Aaron, Alex, and I all went to the Arizona-Sonora Desert Museum. We walked around half of the zoo, but the temperature kept rising and we left. It was just too hot for Alex...even if it was a dry heat. The animals were all in hiding/sleeping.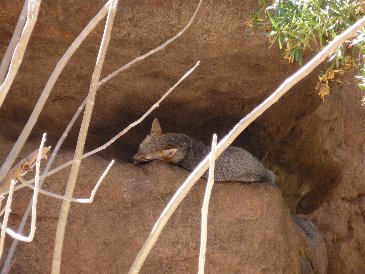 Gray Fox
It has consistently been reaching around 105. The high is always listed as 99, but it gets about 104/105. It isn't too bad if you are in the shade, but Alex overheats easily, so we don't do a lot when it is really warm. The only problem is the temperature rises until around 5:00 p.m. So we do a lot in the evenings. Back to Friday.
We relaxed for a while and Gabe came back home. We drove up Mt. Lemmon and had a great time. It was nice outside and the sun was setting, so it wasn't beating down on us.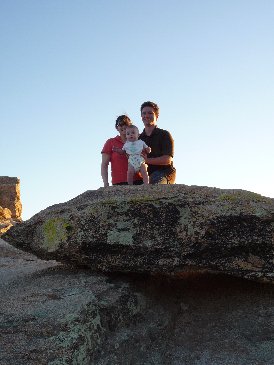 Hanging out on a rock at Mt. Lemmon. The pictures just don't do Mt. Lemmon justice. It was a lot of fun walking around.
We had plans to eat at the restaurant on the top of the mountain but this is the off season and they are only for breakfast from 9:00-11:30 a.m.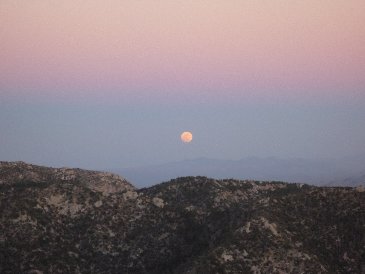 Moon rising over mountain.
We didn't make it. Instead, we drove back down the mountain and ate the Arizona Pizza Company. The pizza was pretty good.