December 7
We had two Christmas activities today, but one of them was sort of a continuation of yesterday. First, we sent cards to the three featured kids over at Make A Child Smile. Most of the children on the website have medical issues that they will not recover from. If you have a couple of spare minutes, I encourage you to write out a card or three. We included a picture of our dogs in the cards and I wrote a little story about them. I also encourage you to read the "DOs and DON'Ts" section in "Frequently Asked Questions". There are a lot of helpful tips like don't send candy due to allergies, don't send glitter, don't say "get well soon", do send cheery mail, do tell a story.
I bought contact paper, so our second activity was to make the ornament that I had planned for Alex yesterday. I placed a piece of contact paper, with the backing removed, on the floor. I gave Alex a pile of pieces of scrap paper and I let him adhere them to the contact paper. The idea was for him to cover the entire piece of contact paper. Since he didn't, I placed the contact paper on another sheet of white paper. I then cut out an ornament shape, added ribbon, and placed it on the tree. You can find the ornament pattern here.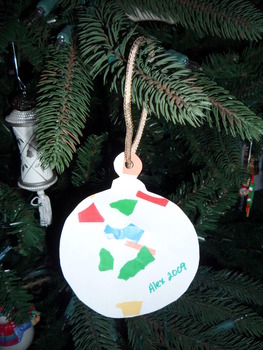 Follow our other daily December activities. December 1, 2, 3, 4, 5, and 6.