Visiting Santa
The Friday after Thanksgiving we attempted to do some Black Friday shopping. We went around 7:00 a.m. and needless to say, everything was gone. The lines were still really long though and I do not like waiting in long lines anyway. We almost bought a new table and chairs for our kitchen, but we decided against it. One of our chairs is broken.
On Saturday, we went to Sierra Vista and Fort Huachuca. The mall in Sierra Vista has a display of Christmas trees. Alex also had his picture taken with Santa while we were there. He cried the entire time. Oh, and when did it start costing $25 to have your picture made with Santa? For my $25 I received a 5 x 7 and picture CD. After the mall we went to the Fort. It is an active military base, so we had to get clearance to enter. It is also a historical site, so civilians are allowed onto the base. It was fun to drive around and to see some of the training areas. There are also three neat museums (Fort Huachuca Museum, Fort Huachuca Museum Annex, and The U.S. Army Intelligence Museum). My favorite was the Intelligence museum. They have a 12 ft section of the Berlin Wall.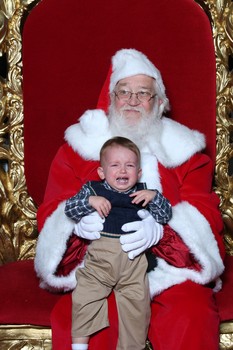 Alex and Santa.
On Sunday we finished putting up Christmas decorations.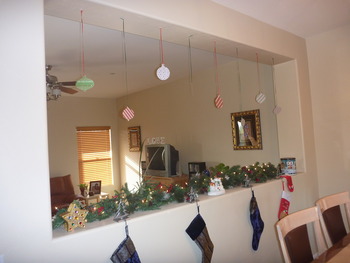 To make these hanging ornaments I simply cut out an ornament shape from scrapbook paper. There is patterned paper on both the front and the back. I tied a ribbon through ornament and hung up using command hooks. The ribbon was cut at different lengths. Cheep, easy, and cute!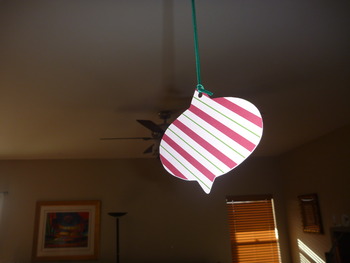 Closeup of an ornament.
Yesterday was my birthday. Gabe and I went to see New Moon. I think this movie was much better than the first, but I still prefer the books. After the show we went to Red Lobster for lunch and the Cold Stone Creamery. We picked Alex up early from school and headed home to relax. Dinner was pizza and carrot cake...yummy!
Today I am attempting to knock quite a few things off of my list. So far I am doing ok.