December 14
Today we delivered the Christmas candy to most of our neighbors. I went to a party at a local restaurant. It was a lot of fun and there was gift exchange. I came home with a really cute snowman. Alex loves to watch him (he changes colors).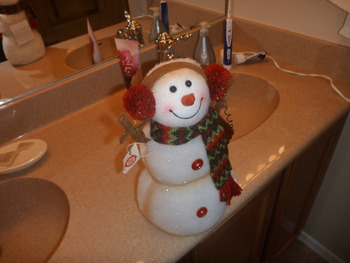 Cute snowman (Yes, he is on our bathroom sink. I am not sure why I chose to take the picture there or why the snowman is even in the bathroom.)
Follow our other daily December activities. December 1, 2, 3, 4, 5, 6, 7, 8, 9, 10, 11, 12, and 13.