Crinkle Blanket with Ribbon
While we were on cruise in Alaska I came up with an idea. Alex loves to play with paper (he loves the noise it makes), but it always ends up in his mouth. So, I decided when we returned from our vacation, I would make him a mini-blanket with the plastic inside (the type used in other crinkly baby toys). I figured I could buy some a craft store. Well, my idea turned out to not be so original. Joy's Hope already posted something very similar to what I was going to do, but she had a few improvements over my idea. She used the plastic from a package of baby wipes and she added fun pieces of ribbon.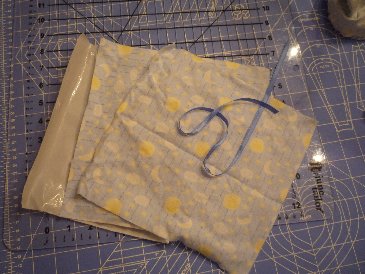 Other than a sewing machine and thread, you will need two squares of material (I used 9.5" x 9.5" flannel). You will also need a selection of ribbon (I used 4" pieces, 3 pieces on each side) and something that makes the crinkly noise (I use a baby wipes package) cut into a 9" x 9" square. I decided on the size of the mini-blanket by the maximum amount of baby wipes packaging I could use.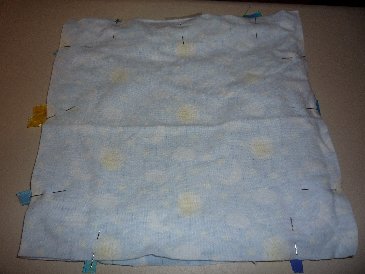 Pin the ribbon (folded in half) between the two pieces of material (wrong sides together). Instead of pinning the ribbon flush, I like to have it stick out a little bit from the flannel. This way it definitely gets sewn down. Also, do not pin in one piece of ribbon. This will be the area where everything is turned right side out. The ribbon can be sewn in at that time. Start just below the area where the ribbon will be added later and sew around the square. Make sure and leave a gap to add the last piece of ribbon and so the material can be turned right side out.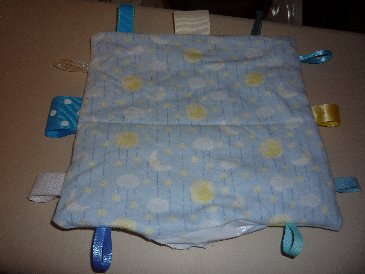 After sewing, turn the material right side out. Make sure and push the corners out. I did not sew the plastic with the material. Instead, I placed it through the opening.

Next, fold in the opening and add the ribbon. This time sew all the way around the square, making sure to sew the ribbon in place and the opening closed. Since the plastic material was not sewn in place earlier, I sewed three lines down the square of material (sort of like quilting). If I do another one, I might do a waves or the letter "A" for Alex.