Christmas Tree Napkins
There is a little independently owned quilt shop the next town over. They carry designer fabrics that you can't buy at places like Wal-Mart or Jo-Ann's. The ladies there are always really helpful and freely give away patterns. One of my favorite patterns is for Christmas Tree napkins. These are super simple to make. One napkin takes two fat quarters (one each of two different materials). If you would like six napkins, you will need two yards of material (one yard each of two different materials). To get six napkins out of a yard of material requires a little finesse, but you can do it!
This is a little hard to explain, but if you have a circle that is 20 inches in diameter (across the center of the circle) and you cut it in half, you have the shape that you need for the napkin. Cut out half circles of both of the materials and sew them right sides together. Make sure and leave a space to turn the material right side out. I left my opening on the straight side of the material.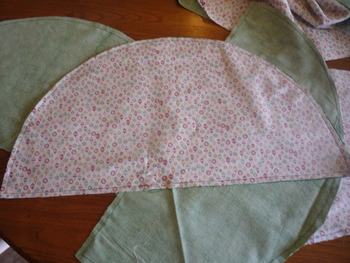 Turn the material right side out and press. Use the step-by-step pictures below to fold the material into a Christmas Tree shape. Once you have the shape you desire, iron the napkin again.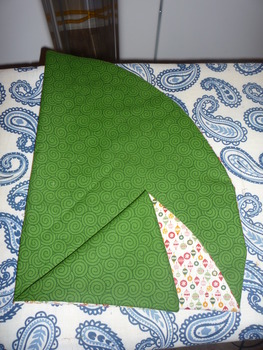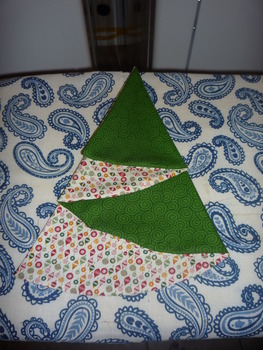 Next, sew a straight stitch down the folded crease from the iron. This will allow you to know where to fold your napkin to get a Christmas Tree shape after washing. Cute and simple! Enjoy!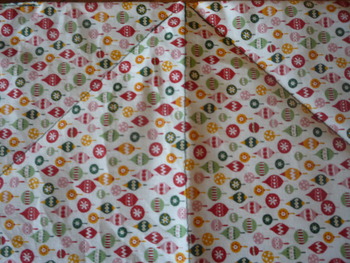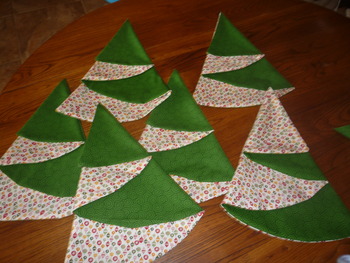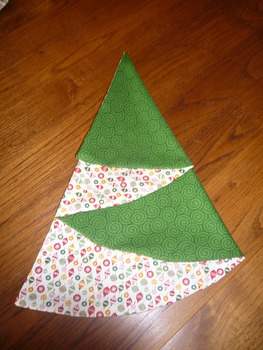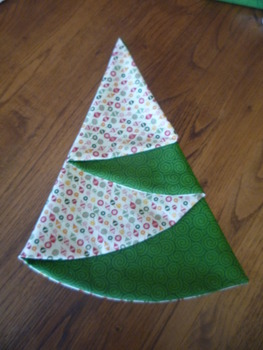 Depending on which way you fold your material, you can get a different look from the same napkin.
The ladies at the quilt shop said they use non-Christmas material to make these napkins and use them all year. I sort of like the Christmas Tree aspect myself.