Vancouver
We got up this morning and had breakfast on the cruise ship. Once we disembarked (Alex saved us around 1.5 hours of standing in line) we headed to our hotel (Fairmont Waterfront) in Vancouver. Our room was not ready (we were given the option to upgrade and get into a room immediately...we declined), so we decided to go to the Capilano Suspension Bridge. Then we realized that we only had two bottles and they were both dirty. Gabe walked outside to see if he could find the Taxi driver (the bottles were left in the taxi). Unfortunately he could not be found. The bottles were in a pocket on the stroller. Gabe told the driver to put the stroller in the front seat, but he insisted on putting it in the trunk. So, the bottles must have fallen out in his trunk. Well, it was time for Alex to eat and I needed to clean him some bottles. I asked if there was somewhere that I could clean bottles and explained to them that the ones that were left on the taxi were the only clean bottles that I had. They were very nice and put us in a room right away (the upgrade that we declined to pay for earlier). So, we ended up with another hotel upgrade for free. I washed Alex's bottles and we headed off to the bridge.
We explored the bridge and the surrounding park. It was a lot of fun.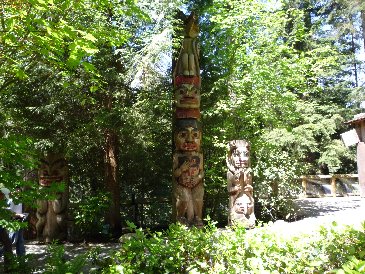 Totem Poles at the park.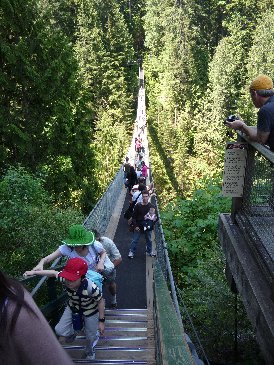 Gabe & Alex on the Capilano Suspension Bridge. You can't tell from a still picture, but the bridge sways quite a bit.
We returned back to Vancouver and went on a city tour. We would have liked to went to the art museum (there was a special exhibit on Rembrandt) and the Chinese Garden, but we just didn't have the time.

Steam Clock
We had dinner at Steamworks. At a little shop, I had a very yummy gelato, Strawberry, Mint, and Basil. It sounds gross, but it was really good. After walking around the town for a little while we headed back up to our room. We have to get up around 5:30 a.m. to catch our 8:45 a.m. flight.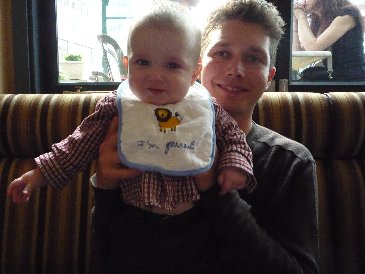 Gabe & Alex at Steamworks

Our hotel's herb garden. They use the herbs in the hotel restaurant.