Super Saturday
Last Saturday morning Gabe took Aaron to his workplace to look around. It is a really cool facility. Alex and I stayed home for a couple of reasons. The primary reason is that Alex cannot go because he is too young. It isn't a big deal though, I have already been back in November.
When they returned we went to the copper mine. We watched a video and went through the museum. We didn't take him on the tour though. We were on a tight schedule to get a lot of things in that day.
Next, we went to a Spanish mission, San Xavier del Bac. We walked around the area, but unfortunately we were unable to go into the church. There was a wedding going on while we were there. Gabe and I have been inside the church before and as expected, it looks like it was transported over from Spain.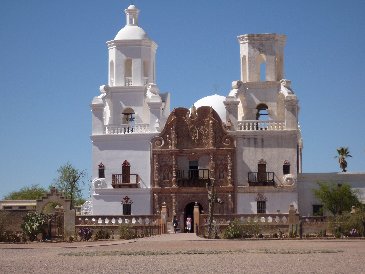 Mission from the outside.
After the mission, we headed out to the Colossal Cave. This was the first time that Gabe and I had been as well. We went on the cave tour and headed back home to get ready for a party.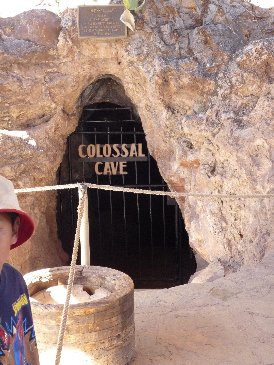 Colossal Cave Entrance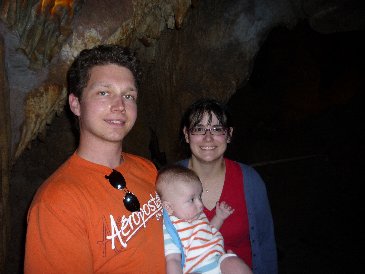 Here we are inside of the Colossal Cave.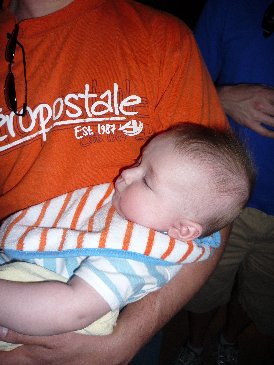 Alex about half way through the cave tour.
We all went over to Kevin's house for his party. We decided to walk since he doesn't live too far away. The only problem was neither Gabe nor I printed out the address. We finally figured out where he lived and had a good time.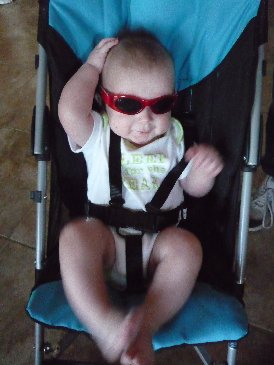 Alex, ready to go to the party!
Aside from eating and talking to everyone, I joined in on a game of Texas Hold 'em. We were going to leave in time to watch the movie Bolt, but that just didn't happen. Our community has free showings of movies outside. You bring a blanket or lawn chair and they supply the movie and popcorn. We basically tried to do the most things we could during the time that Aaron was out here.