High Chair
Gabe went to the doctor on Friday and found out that he has strep throat. Luckily, he has been taking his antibiotics and according to the doctor he is no longer contagious (starting today). So, Alex is happy that his dad can hold/feed/play with him again.
Yesterday we watched a lot of Grey's Anatomy (season 4). We are actually watching it right now too. Today we went to have Alex's pictures made. We skipped the pictures where we kiss him or put him too close to our faces. Even though Gabe is no longer contagious, there is no need to take a chance by sticking him up in Gabe's face right now.
We also went to Babies R Us and purchased a high chair.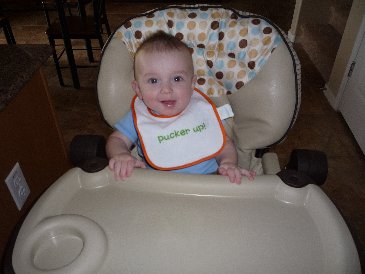 Alex in his new high chair.
Recently, Gabe and I have watched several movies. Two of the movies were based off of books that we both read. The Last Templar book was very disappointing. I seem to remember Gabe mentioning that the book would make a good movie. He was right. The movie was pretty good and was better than the book. This is a pretty rare thing, but the movie was just better. The other movie was Marley and Me. The movie was good and funny. I was laughing out loud through some parts. I would have laughed more and even louder if I had not been holding a sleeping Alex. He always wakes up when I laugh. This movie followed the ordinary trend and I preferred the book, even though the movie was good.
I made the Creamy Basil Parmesan Chicken & Pasta tonight and it was very good. We sat outside and ate our dinner. I should have taken a picture of both the food and of us eating outside, but I didn't. I could take a picture of the leftovers, but they just don't look as appetizing when they are crammed in a food storage container.
I have been working on getting all of my swap items together. The first one will be going out on Monday. The second one will be going out near the end of May. Hopefully everyone will like the things that I picked out. I will post pictures later (after they receive their packages).