Happy Belated Cinco de Mayo!
Gabe and I celebrated Cinco de Mayo by having Mexican Beef and Bean Casserole. I meant to post this recipe on the fifth of May, but it doesn't have to be Cinco de Mayo to make it. Like always, my picture is terrible.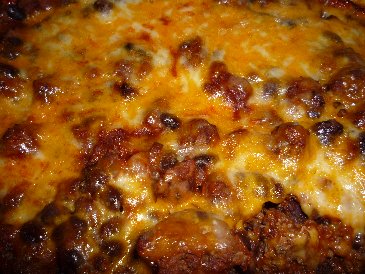 Mexican Beef and Bean Casserole (from Betty Crocker's Cooking Basics) (4 Large Servings)
Ingredients
1 pound ground beef
2 cans (15 to 16 ounces each) pinto beans - I use black beans
1 can (8 ounces) tomato sauce
1/2 cup mild chunky-style salsa - for more zip I use chipotle sauce
1 teaspoon chili powder
1 cup shredded Monterey Jack cheese (4 ounces) - I use white sharp or marbled cheddar
1. Heat the oven to 375 degrees F.
2. Cook the beef in the skillet over medium heat 8 to 10 minutes, stirring occasionally, until brown; drain.
3. Rinse and drain the beans in a strainer. Mix the beef, beans, tomato sauce, salsa and chili powder in the ungreased baking pan.
4. Cover with lid or aluminum foil and bake 40 to 45 minutes, stirring once or twice, until hot and bubbly. Carefully remove the lid, and sprinkle cheese over the top. Continue baking uncovered about 5 minutes or until the cheese is melted.