On the Cruise Ship
Today we were up and ready to leave our hotel (River Rock Resort) by 11:00 a.m.. After check out, we took a taxi to the superstore (A.K.A. Safeway) to buy some bottled water for Alex's bottles. There was a slight issue when we went to pay for our purchase with our bank/credit card. It can be used as either a debit or a credit card. They were really confused that it had both VISA and debit printed on it. The cashier talked to the manager and came back and told us that they would not take the card. Basically, they decided it was not a debit card because VISA was printed on it and it was not a VISA because the word debit was printed on it. So, we just used our American Express.
The taxi took us to the pier. Getting on the cruise ship was made a lot easier because of Alex. We were given priority treatment and we did not have to wait in any lines. Once we boarded the ship we had lunch at the pizza/pasta buffet.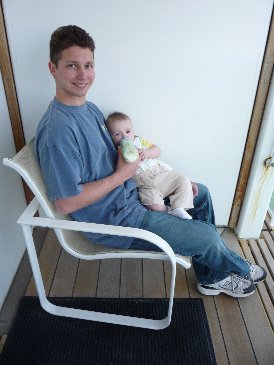 Gabe & Alex relaxing on our balcony.
The emergency drill wasn't too bad with Alex. Gabe carried him so they let both of them finish the drill without a bulky life vest (I had to carry both of theirs while wearing mine).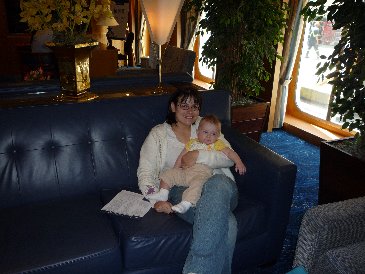 Stephanie & Alex hanging out on the cruise ship.
Dinner was nice and we had our own table. All of the workers seem to love Alex and they all volunteer to watch him. We watched a little bit of the show tonight (it was a preview of all of the acts for the week). Now we are back in our room. Tomorrow is a day at sea. We might swing by the art auction.