December 20
Gabe added some finishing touches to our outdoor lights today. Alex also watched Santa Buddies. He recently started watching TV and is never really that interested in what is on. He would much rather play with his toys or read a book. However, he LOVES Santa Buddies. We had to turn it off after 20 minutes. This is the first time we have had to actually enforce the 20 minute limit.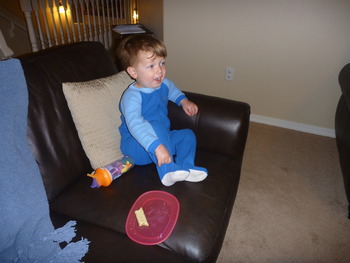 UPDATE: Santa Buddies is still interesting, but now he treats it like all of the rest of the TV shows. He watches a couple minutes and then plays.
Please consider sending Jimmy a Christmas card.
Follow our other daily December activities. December 1, 2, 3, 4, 5, 6, 7, 8, 9, 10, 11, 12, 13, 14, 15 16, 17, 18, and 19.
Here is a link to the 2009 Daily December activities.