December 17
Tonight we went to the Winterhaven Festival of Lights. It is a neighborhood that goes all out with their Christmas decorations. The really nice thing, well for the visitors at least, is the streets are blocked off by police and you can take a leisurely stroll down the streets to look at the lights. Alex really liked the lights.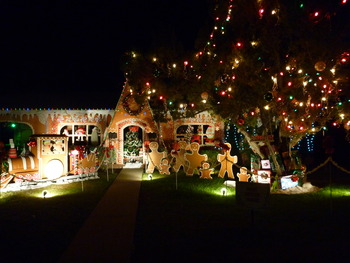 I also made Pumpkin Upside Down Cake for Gabe to take to the potluck at work. Everyone seems to really love this recipe. I, however, am not a fan.
Pumpkin Upside Down Cake
1 (15 oz.) can pumpkin
1 (12 0z.) can evaporated milk
1 cup sugar
3 eggs
2 teaspoons cinnamon
1 (2 layer yellow cake mix)
1 cup pecans chopped
1 cup butter melted
8 oz. cream cheese, softened
1 cup sugar
12 oz. whipped topping (cool whip)
Line a 9 X 13 baking pan with waxed paper. Combine the pumpkin, evaporated milk, 1 cup sugar, eggs and cinnamon in a bowl and mix well. Pour into the prepared pan. Sprinkle the cake mix over the pumpkin mixture. Sprinkle the pecans over the cake mix. Drizzle the butter over the layers. Bake at 350 degrees for 1 hour. Cool in pan. Invert onto a flat service.
Combine the cream cheese, 1 cup sugar and cool whip in a bowl and mix well. Spread over the top of the cake. Chill for 1 to 2 hours or longer.

Please consider sending Jimmy a Christmas card.
Follow our other daily December activities. December 1, 2, 3, 4, 5, 6, 7, 8, 9, 10, 11, 12, 13, 14, 15 and 16.
Here is a link to the 2009 Daily December activities.