December 13
Today Alex and I made Fudgy Oatmeal Cookies. There are a lot of variations of this recipe out there, but this is the first time I have made the version with peanut butter. Jimmy and I used to make a version of these quite often.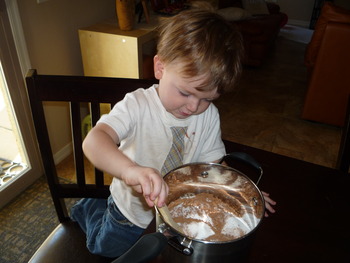 Fudgy Oatmeal Cookies
2 C sugar
1/2 C milk
1/4 lb butter (one stick)
3 T cocoa
1/4 t salt
1 t vanilla
1/2 C peanut butter
3 C quick cooking oats
Combine sugar, milk, butter, & cocoa in heavy pan. Bring to boil for 1 minute, timing accurately. Add salt & vanilla. Blend in peanut butter & oats. Mix well. Drop by teaspoons on wax paper. Will become firm in 15 minutes. Yield 4 dozen.
Please consider sending Jimmy a Christmas card.
Follow our other daily December activities. December 1, 2, 3, 4, 5, 6, 7, 8, 9, 10, 11, and 12.
Here is a link to the 2009 Daily December activities.