Baseball and a Museum
Well, I should be watching Dexter right now, but both Gabe and Alex are sleeping. So, I have the Food Network on mute instead. This week was busy.
On Tuesday I went to the book club meeting. We discussed The 19th Wife. As I said in a previous entry, the topic was plural marriage. It made for some interesting conversation. Next month the book is Dixiland Sushi by Cara Lockwood. After I left the book club meeting, I headed over to DD's house and we went out to lunch. It was a Mexican restaurant that I had not been to before and they had yummy cheese enchiladas.
Wednesday I headed over to K's house to scrapbook. Actually, she scrapbooked and I worked on some other crafty things.
Friday night, Gabe, Alex, & I went to a baseball game. We watched the Tucson Toros play the St. George Roadrunners. The Toros won. We ended up leaving before the game was over. Alex was getting sleepy and it was still pretty hot out even at 9:30 p.m. We missed the fireworks, but Alex would have most likely screamed through them anyway.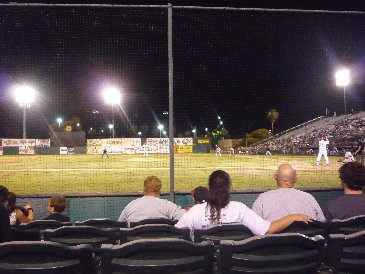 The field.
Yesterday we went to the Tucson Children's Museum. Alex is still a bit too young to fully enjoy the museum but he still had a good time. Saturday evening we went to GT's house for a party. It was a lot of fun. We left around 8:30 p.m. and Alex was pretty much asleep once his head hit the car seat.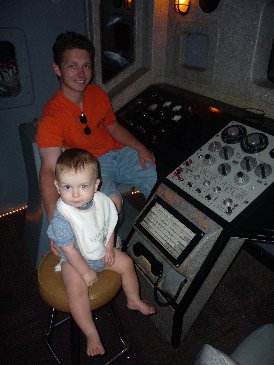 Alex manning the submarine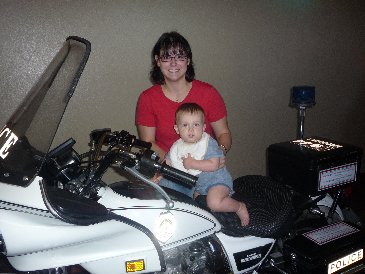 Cruising on the police chopper.
I made a pillow for one of my Grandma's for Grandparent's Day. It has a picture of Alex on it. I hope she likes it.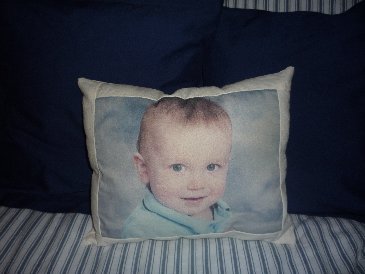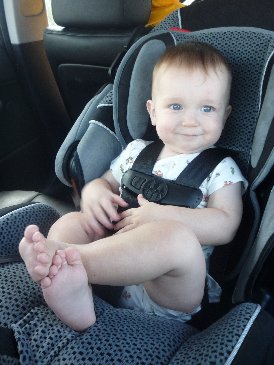 Alex in his new car seat. He is too long for his infant carrier.