Back Yard Landscaping
This weekend was pretty uneventful. Saturday we walked around our neighborhood. There was a town wide rummage sale. Yesterday we went grocery shopping. We also managed to watch a couple of movies. Quantum of Solace was one of them. It is a James Bond movie, but Bond really seemed to have some issues. In Bruges is about two hit men that end up in a medieval city in Belgium (Bruges). Umm...it was different. Let's just go with that. I guess I am just not a fan of dark comedies. The Spiderwick Chronicles is a cute little movie about a boy that finds a book that contains secrets about a secret world that exists in our world. I also finished Why Do Men Have Nipple? It is a neat book filled with medical facts. Hmm...that made it sound boring. It really is interesting and fun to read.
Here are the long awaited landscaping pictures of our back yard.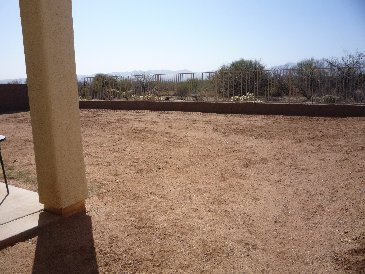 Our back yard on March 31 before landscaping.
In my opinion, the pictures of our backyard do not actually do it or the view justice.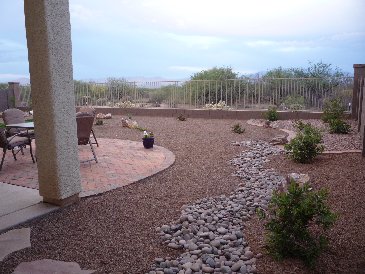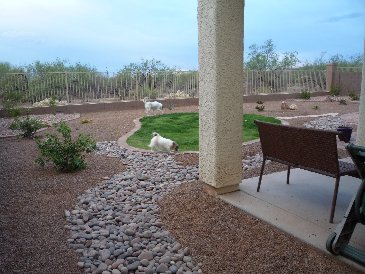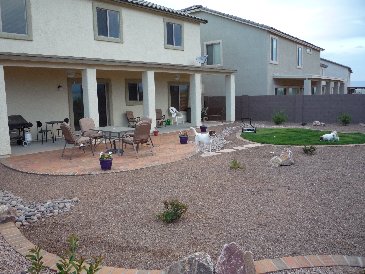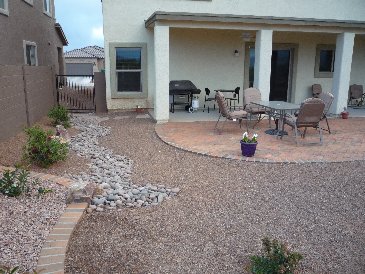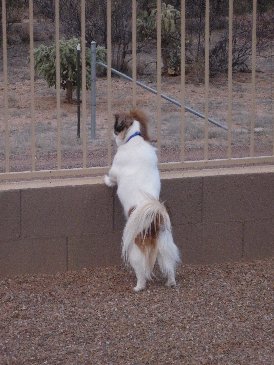 Elsa and Clara really like looking out into the desert from our backyard. Sometimes they even see cows.
Gabe's dad built a cute little bridge that goes over our river of rock. Since these pictures are from a few weeks ago, I don't have a picture of it yet. Elsa really likes to relax on the bridge.