Unpacking
Wow! It has been a while since I have updated. If you could take a look at our house right now you would tell me to get off of the computer and get back to work unpacking.
We received the keys for our house last Tuesday. There was a little confusion about how the keys were going to make it to us, but it all worked out in the end. We were hoping that the movers would be here 8:00 a.m. on Tuesday, but their scheduled arrival time was 8:00 a.m. on Wednesday. Since our stuff wasn't here yet we moved out of the rental house on Tuesday. We were at our house around 8:00 a.m. on Wednesday. When the movers weren't here by 8:30 a.m. Gabe called to see if they needed directions. Turns out they weren't going to make it until 3:00 p.m.! So, we went back to the rental house to finish packing and cleaning. The movers finally made it...at 4:15 p.m. They stayed and unpacked until 1 or 2 a.m. I am not sure how long they stayed because Alex and I found a couch and went to sleep (the bed wasn't together yet). They came back the next morning to finish up. They were supposed to be here at 8:00 a.m. and be gone by 10:00 a.m. They didn't get here until 9:15 and I am not sure what time they left.
Gabe and I have been slowly unpacking. It took me three days to unpack my closet. I don't really have that much stuff, it is just a lot more difficult when there is a baby that needs attention. So, for the first three days my closet was all I worked on unpacking.
We still have a lot to work on before we are finished. We have people coming out for Thanksgiving and I had hoped to have the house completed. Umm...that isn't going happen. Thanksgiving pictures might have a lot of boxes in them. I wanted to have our tree up for pictures, but that would require me to know where the box is that the tree is actually packed in. It would also require the box marked tree to contain a tree (long story, but the boxes don't contain what is marked on them...the pots and pans box didn't contain a single pot or pan or even a single kitchen related item).
We looked out our kitchen window and saw several cows grazing in the desert. Most of the desert land is open range for cattle. They didn't really seem to mink our staring.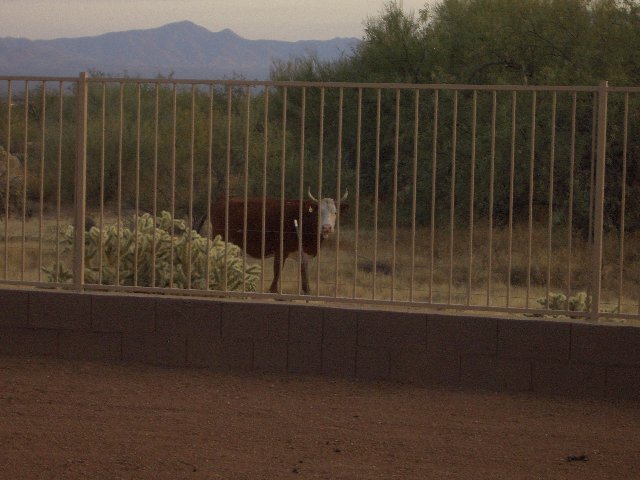 After the house is all together I will work on posting pictures. I need to get back to work...we have guests coming tonight and the guest room isn't together yet.
P.S. Gabe found my camera!