Illinois Part II
We relaxed a little today and went to eat at 17th Street Bar & Grill. They have won the World Grand Championship 3 times (they are the only place to do it so far). Gabe had never been and it happens to be one of the favorite places to eat for quite a few of my family members. So, we all headed out for lunch. Gabe said they were the best ribs he has eaten. I like the beef brisket.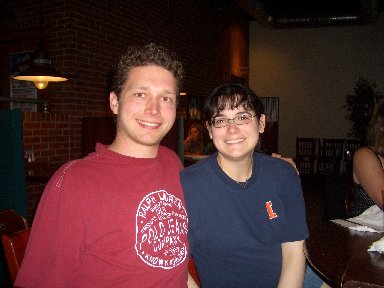 Gabe & Stephanie at 17th Street.
After eating we came back and went for a swim once the sun went down. I forgot how much I love swimming and having a pool. Then we watched the finale for the Next Food Network Star. I won't say much just in case some of you haven't watched it yet, but I will say I would have picked someone else to win.