Busy
We have been pretty busy lately. On the 29th Gabe and I went to a benefit dinner. The food was yummy!
We climbed up a mountain on the 30th. The weather was great and Alex was a good sport.
Tuesday and Wednesday I made tamales with my neighbor. They were so good that we added a second day (Wednesday) of tamale making.
I met a friend for coffee a couple of times. I also went to a craft night where we made a fun valentine craft. I finished the valentine wreath that I started a few weeks ago. I will try to post a picture soon.
Alex went to the dentist on Thursday. He didn't mind it too much.
We had tickets to the symphony on Friday, but Gabe wasn't feeling well so we gave our tickets away.
Saturday Alex & I dropped some cupcakes off at a friend's house for their birthday. Gabe was still sick so he stayed home.
We missed a superbowl party on Sunday. Gabe was still sick.
He left for the cold state of Nebraska on Monday. He is back home now.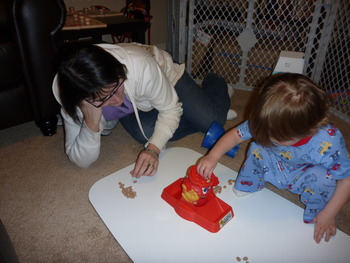 Playing Don't Spill the Beans