Sunday, May 23, 2010
We arrived in London today. After gathering our luggage, we picked up our rental car and started heading to Dover. We were cruising along and came to a dead stop along the major highway. After hanging out in our car for about a half an hour, we noticed people starting to get out of their cars. It was a divided 6 lane road and there was no traffic on the other side of the road either. So, people were playing soccer where the oncoming traffic should have been.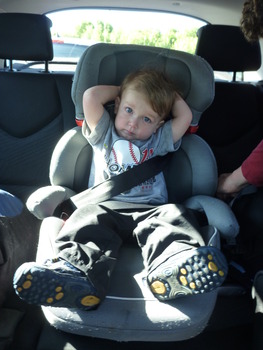 Alex chilling in his carseat in a car that is not moving.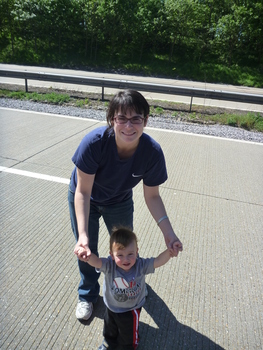 Alex and Stephanie hanging out on the highway.
We hung out in our stopped car for about forty-five mintues. We noticed cars behind us backing up and driving on the shoulder. Gabe checked our GPS and noticed there was a road about a quarter of a mile back. It turned out to be a service road, but it worked out great. It did add 30 minutes onto our driving time, but the road block was there for another forty-five minutes. Thank goodness for our GPS. It allowed us to drive on unnamed roads to get to our destination on time.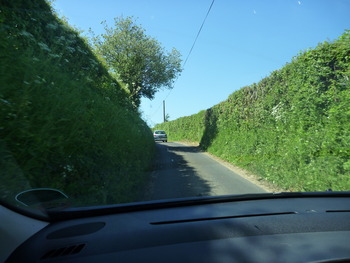 One of the roads we drove on. There were several that looked like this.

We kept seeing the yellow flowers in the fields. It reminded me of Sting's Fields of Gold.
We stopped off in Canterbury to buy some diapers for Alex. It was "The Canterbury." I love Chaucer's Canterbury Tales, so it was neat to get to see Canterbury.
We drove to Dover and saw the White Cliffs and Dover Castle. We only had about 15 minutes to hang out at the castle instead of the hour or so we had planned, but we decided to go anyway. We were impressed with how well preserved it is. We could have easily spent a couple of hours there if we had the time.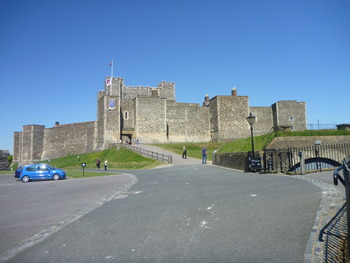 Dover Castle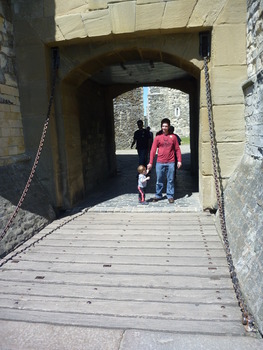 Alex and Gabe.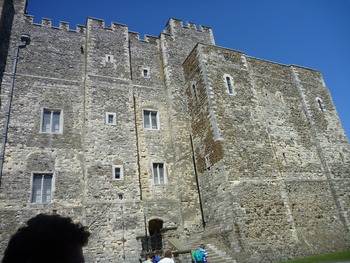 Dover Castle
We dropped off our car at the car rental place. They were closed. This turned out to be a problem when we needed to call a taxi. Gabe went to a bait shop and the guy called a couple of taxi companies. Unfortunately, we didn't get a taxi. Luckily, there was a guy from South Africa dropping off his rental car. His daughter, who lived in England, gave him a couple of taxi numbers just in case. Well, they turned out to be great. He called a taxi for all of us and we made it to the cruise ship.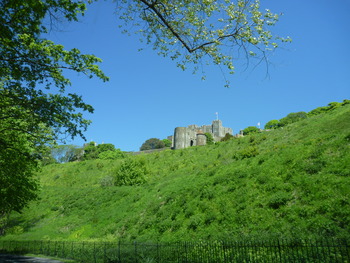 Castle from a distance.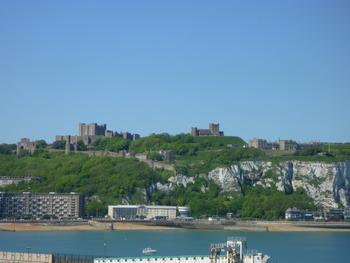 Castle and some of the White Cliffs from our cruise ship.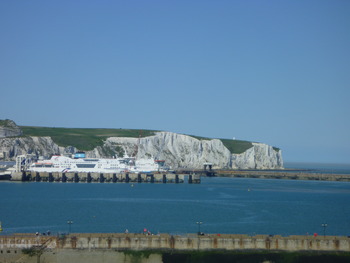 Some of the the White Cliffs of Dover.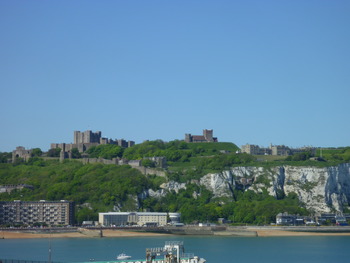 Dover Castle and White Cliffs of Dover.
Once on the ship we walked around a little. Once our luggage arrived, we showered and got ready for dinner. Alex was too tired to eat even though we ordered him food.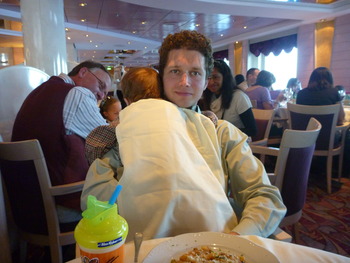 Alex slept through dinner.
Next up: Day at Sea