Monday, May 24, 2010
We all slept great last night. Gabe and I had been up over 35 hours. We got up at 9:00 a.m. local time and Gabe brought us all breakfast back. There is now a 9 hour time difference between here and our home time zone. This changed from 8 hours yesterday.
Since today was a day at sea, we wondered the boat. Alex loved all of the areas with live music and he would begin dancing whenever we would enter one. We also met some nice Germans today.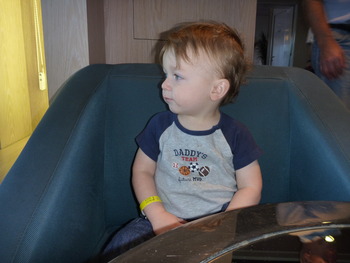 Alex watching the waves from a window.
Tonight was formal night, but we had a late lunch and we went to tea time at 4:00 p.m. Our seating time for dinner is 6:15 p.m. Even though it was a formal night, I couldn't manage to eat very much after all of meals earlier in the day. We are on our way to Germany. Our original itinerary listed our port of call as Rostock. However, the weather is not cooperating and the port there is closed. So, we are stopping at Kiel, Germany instead. It should still be fun, but unfortunately all of my research was on the Rostock area. We will use our GPS and a map (in German) to help us find some fun things to do. Since our Alaska cruise worked out so well with us walking around the towns on our own (and not taking expensive excursions), we have decided to try it on this trip as well. The only country we will taking an excursion in is Russia. Since we did not get the required visa to get off of the ship, we opted to do an excursion to the Hermitage instead. Especially after we realized that the excursion and the visa were essentially the same price.
Next up: Germany