Park
Alex has recovered nicely from his surgery. We went to the doctor yesterday and no ear infection! Of course, he just finished his antibiotics yesterday too, so hopefully his ears will stay infection free.
Alex had his surgery on Mardi Gras. I had big plans to make a king cake, but that didn't happen. Instead, we celebrated Mardi Gras on Wednesday and I made Jambalaya.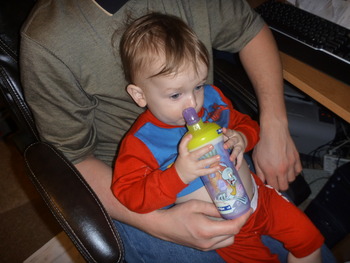 Alex relaxing.
On Friday, Alex was feeling great and we went to the park. He loves to swing.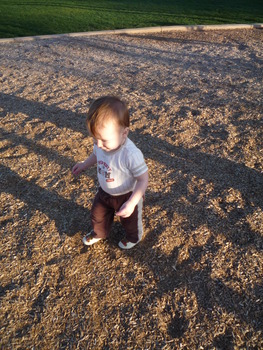 Walking around the park.
On Saturday, Dawn and I went to a Mom to Mom sale. I found Alex a few toys, but I still need to disinfect them. Gabe, Alex, and I went to a birthday party for Kimmie. Unfortunately, the weather was cold and it sprinkled a little bit so we only stayed for about 30 minutes and we left. After the party I went over to Debbie's house and Dawn, Debbie, and I scrapbooked. I now have May 2009 finished!
I have started running back up again. I quit due to illness earlier in the month. I still have my goal of running in a race, but I guess I will run it alone. Dawn was going to run in the race with me, but she is moving to Indiana in March. I will miss her!
I finished reading Julie and Julia. It is actually a funny and interesting book. I am looking forward to watching the movie. If you would like to see the blog that started it all click here. There is also a link at the top of the page to go to her current blog.
Gabe and I are watching American Idol again this season. So far none of the girls are really doing it for me. I am looking forward to the guy's performances tonight.