Ears
Alex is back from surgery. Everything went great! The Dr. said that he "drained a lot of nasty pus from both ears." So, he should be hearing better too. Thanks to everyone that kept Alex in your thoughts and prayers. It means a lot to us.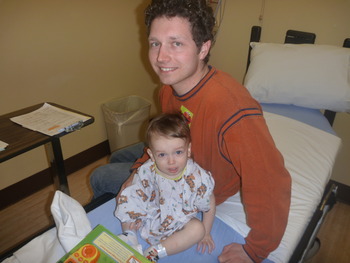 Waiting to go back to surgery.
Alex is back to the super happy baby he was before all of the ear infections started. He didn't scream when I laid him down to change his diaper. Instead, he played peek-a-boo with me. It has been months since this has happened. Relieving the pressure was a wonderful thing. He has been running around and playing. This is the happiest he has been since before November. We will see how tomorrow goes, but things are looking great.