Carts
We have been busy preparing for an upcoming trip and getting ready for a party. I am having a Southern Living at Home party tomorrow. A few people are coming over and while looking at all of the products we will be munching on yummy desserts. I am also making a veggie tray since some people may have new year's resolutions to cut out sweets (I am NOT one of those people).
Last night we went to the store and I managed to take a picture of Alex pushing the shopping cart. He has been doing it for a little while, but this is the first time that I thought to take a picture. We only let him push the cart if the store isn't busy. I guess I should look into purchasing a toy cart for him.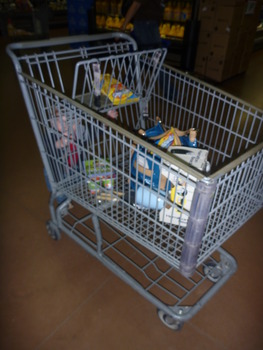 He is pushing the cart though he is hard to see in this picture.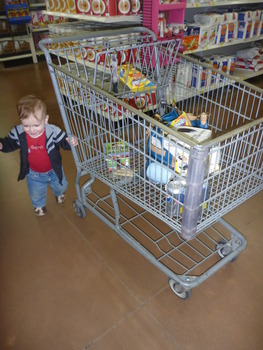 Sometimes he likes to push the cart from the side (I think he can see a little better this way).
I finished reading I, Alex Cross and Alex Cross's Trial. That knocks off numbers 14 and 17 off of my New Year's Resolution list. I really enjoyed I, Alex Cross. It was the typical book from the Alex Cross series. Alex Cross's Trial was good, but it was not at all what I was expecting. For some reason I thought it was going to be another book in Alex Cross series, but I was wrong.
Gabe and I managed to watch a few movies while he was off from work. My favorite was Star Trek. I would even recommend it to someone that is not a fan of the series or other movies (I did not like the series). We also watched Coraline, Duplicity, X-Men Origins: Wolverine, Funny People, and Night at the Museum: Battle of the Smithsonian.
I will post a picture of Alex's plate either later on today or tomorrow. I am getting ready to go pick it up soon.