Favorite Things Swap
I participated in the Favorite Things Swap over at Dandelion Wishes. My swap partner was Carrie and she did an amazing job with my swap package. If I had not been in such a hurry to open the package, I might have thought to take pictures of the wonderful wrapping job. Each item had a little envelope attached explaining why it was one of her favorite things. We actually have a lot in common! She doesn't know it, but I almost bought her a water bottle too.

How lucky am I? I received a onesie with Alex's name (the wrinkles are from me, not her). She also sent me the paper so I can make more of them.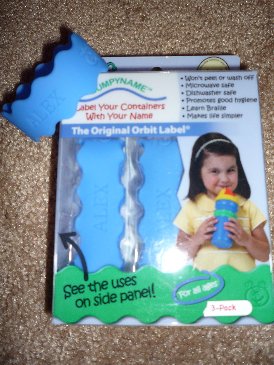 Umm...these little things are genius. They have Alex printed on them (also in Braille) and they slip over sippy cups or bottles. Plus they are dishwasher safe.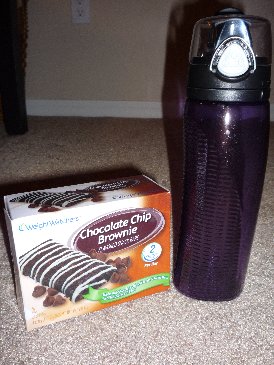 I really like the water bottle. It actually fits in a car cup holder! No more throwing my water bottle in the passenger seat. It also lets me keep track of how much water I have had in a day. The brownie bars are yummy! There were also some tootsie rolls, but they are long gone and did not make it to picture day.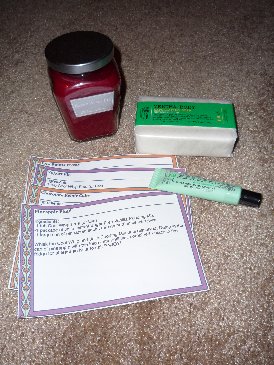 The apple candle smells wonderful. Apple is one of my favorite scents. I absolutely love the lip tint as well as the soap. I love anything mint/peppermint. She also sent me four of her favorite recipes. How sweet is that? I wish I would have thought to send her some of mine.
If you can't tell, I absolutely LOVE everything in my wonderful swap package. A huge thank you goes out to Carrie.
You can check out her post on the package I sent her here.