Happy 6 Months!
Today is Alex's 6 Month Birthday! Maybe I should have made a cake or something. Hmm...I guess the day isn't over yet. Anyway, here is his 6 month picture next to a 12 month outfit.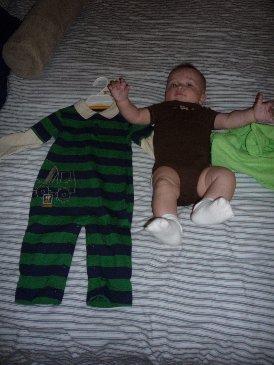 Alex 6 months next to 12 month outfit.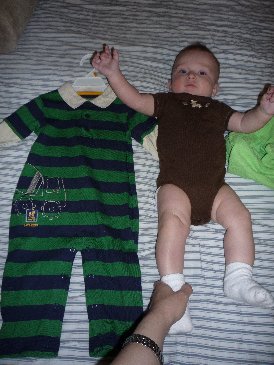 Alex is pretty long, but it is next to impossible to get him to straighten out while taking a picture, so yes, that is my hand attempting to straighten out one leg.
The way things are going, the 12 month outfit may be too short at 12 months. Maybe he will give it a try for the 9 month picture.
I am looking forward to the Dancing with the Stars results show and American Idol tonight. I really hope that Melissa has enough fans to keep her on the show. I think that Ty or Chuck might be going home.
On a happy note, I spoke with a very good friend that I haven't spoken with in a while...a good day. Okay, maybe not the best day, Gabe is sick. So, tonight we are relaxing and watching movies and TV shows.