Alex Plate
Saturday Gabe, Alex, and I had dinner at a sushi restaurant with some other people. It was a lot of fun and the sushi was really good. Thinking about it now makes me want some more.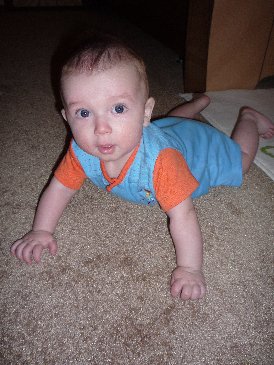 Alex hanging out on the floor while I was working on my swap packages.
We watched Beverly Hills Chihuahua and I was a little disappointed. I really expected a lot from the movie and I think that is the reason for the disappointment. Oh well, it was a free movie.
Sunday we relaxed. Today I received a package in the mail. Brandi painted a dish for Alex and I love it! Alex does too...you can tell from the picture :)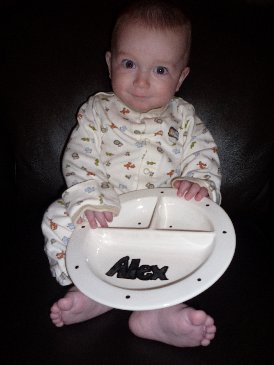 Alex and his Alex plate.
We have watched The Librarian: The Curse of the Judas Chalice and The Librarian: The Return to Kind Solomon's Mines. We have watched the series in reverse order and now we just have the first movie left to watch, The Librarian: Quest for the Spear. The series is a comical Indiana Jones. It is great to watch if you are looking for something that is relaxing, entertaining, and doesn't require a lot of though.
I watched The Promotion. It is about a guy, played by Seann William Scott, that is essentially guaranteed a promotion in his Chicago-based grocery store chain until a new guy shows up, played by John C. Reilly. It had its funny moments. If you don't have anything else to watch, it is worth a rent.
Gabe and I are currently watching Speed Racer. It is based off of the comic book and it was Gabe's choice. Maybe if you really liked the comic book series you would be a little more into the movie. It isn't bad, just not my choice of movie.