Mashed Roots
The following recipe is from a Weight Watchers Cookbook Around the World. A friend gave it to me because she didn't use it. I have made a few recipes from it and we have not been disappointed. The picture does not do the food justice.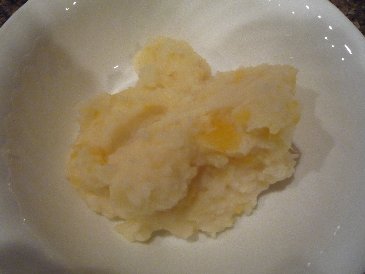 Mashed Roots (serves 6)
4 cups cubed peeled baking potato (about 1 1/2 pounds)
2 cups sliced peeled parsnip (about 12 ounces)
2 cups cubed peeled turnip (about 12 ounces)
2 bay leaves (I skipped the bay leaves)
5 tablespoons reduced-calorie stick margarine
1/4 cup fat-free milk
1/2 teaspoon salt
1/4 teaspoon pepper (I skipped the pepper)
1. Place first 4 ingredients in a large saucepan; cover with water, and bring to a boil. Cook 20 minutes or until vegetables are very tender. Drain well, and discard bay leaves. Return vegetables to pan; add margarine, milk, salt, and pepper. Beat at medium speed of a mixer until smooth.
These were okay, but next time I will just make regular mashed potatoes. White potatoes in a white bowl make a terrible picture.