Apple Nut Tart
The following recipe is from The Little Book of Farmhouse Cooking. It was purchased on our trip to Ireland. I decided to pull it out and pick out a few recipes to make for St. Patrick's Day. The picture does not do the food justice. Too bad I can't just show you the picture from the book.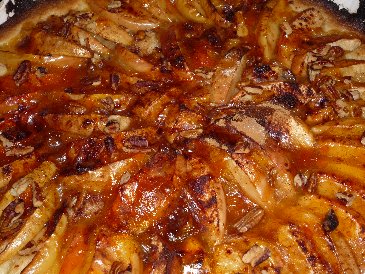 Apple Nut Tart (serves 6)
9 oz plain flour (I used all-purpose flour)
5 oz caster sugar (I used granulated sugar...I could have put it in a coffee grinder to make it super fine)
4 1/2 oz butter, cut into pieces
1 egg
1 lb dessert apples, peeled, cored and sliced (I did not peel the apples)
2 oz hazelnuts, coarsely ground (I used chopped pecans)
1 tsp ground cinnamon
juice of 1 lemon (I skipped this)
3 tbsps apricot brandy (optional) (I skipped this)
4 oz apricot jam, melted
2 oz chopped hazelnuts (I used chopped pecans)
1. Sieve together the flour and 4 oz of the sugar into a bowl. Rub in the butter until the mixture resembles fine breadcrumbs. (I used a pastry blender.)
2. Make a well in the center of the flour mixture and drop in the egg. Gradually incorporate the flour into the egg using a knife or, as the mixture becomes firmer, your fingers. Continue kneading the mixture together, until it forms a smooth dough.
3. Wrap the dough in cling film and chill for at least 30 minutes, then roll out and use it to line an 8-inch greased flat tin. (I used a tart pan.)
4. Layer the apple slices and the ground hazelnuts (chopped pecans) in the pastry case. Sprinkle over the cinnamon, remaining sugar, lemon juice and apricot brandy, if using.
5. Pour the melted jam over, and sprinkle with the chopped hazelnuts (or pecans). Bake in a preheated oven at 425 F, for 35-40 minutes or until the fruit is soft and the tart is golden brown.
This is yummy! I will definitely make this again and I will not wait for St. Patrick's day before I do. Gabe really liked it too.