Hockey
Wow, I have a lot to do to catch up my blog entries!
Thursday Gabe, Alex, and I went to Ruby Tuesday to eat. We had a BOGO coupon, so we both had steak for under $20 tip included. Before this visit I was anti-Ruby. I did not like their menu. I am not sure if the menu changed, or maybe just what I ordered changed, but it was yummy. The salad bar was spectacular and next time I am thinking of just ordering it.
On Friday we went to a hockey game. The University of Arizona Icecats were playing the Arizona State University Sun Devils. As you can tell Alex was really excited.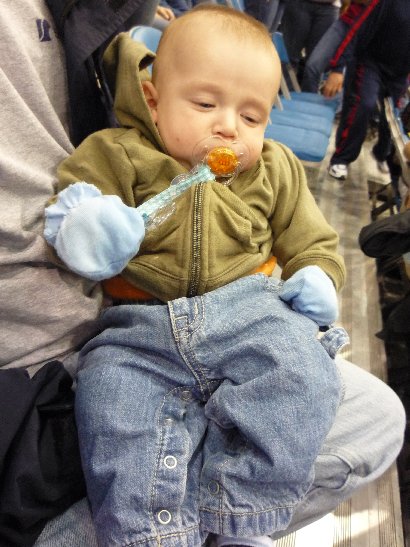 Alex at the hockey game.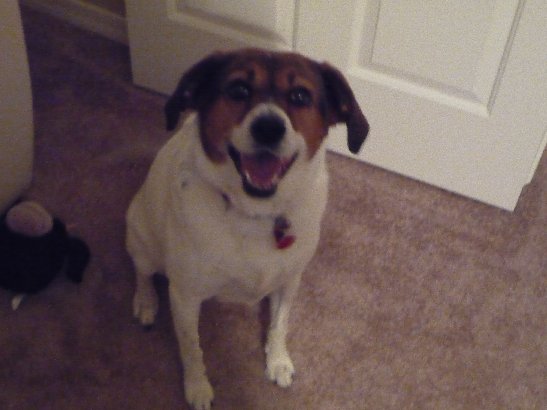 Clara hanging out at home.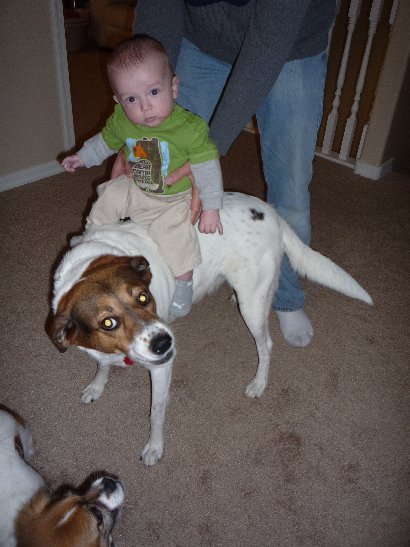 Alex "riding" Clara. Gabe thinks it is fun to have Alex ride Clara like a pony. Elsa is in the lower left corner.
The weather here has been beautiful lately. So, we have been taking advantage of the mid-80's by taking Alex on a lot of walks. The high today is actually 88!
As far as American Idol goes, I am really glad that Danny made it to the next round. Go Danny!
Gabe and I watched Hancock the other night. I rented it because I thought Gabe would like it. I was a little hesitant about another Will Smith movie after I Am Legend. It turned out to be a pretty good movie about a lonely superhero with amnesia. However, I didn't like the ending. Hmm...my description makes it sound pretty bad when in actuality it was pretty good.
We also watched Surfer, Dude. I was advised it wasn't the best movie. It wasn't. There really wasn't a plot. Maybe a guy that wants nothing more in his life than to surf, sticks it to the man (a corporate rich guy that happens to be a jerk...just a side note that not all corporate rich guys are jerks). That darn Matthew McConaughey made me watch it. I am a sucker for his movies.