Bathroom Curtains
Last night, while Gabe and Alex were sleeping, I made the curtains for our bathroom. I have had the material for a couple of days, but I haven't found the time to make them. I decided that it really needed to be done so I could shower and bathe and definitely NOT flash the neighbors. Gabe was convinced that the windows were too tall for anyone to see anything while getting in and out of the shower or bath, but I just feel better with curtains.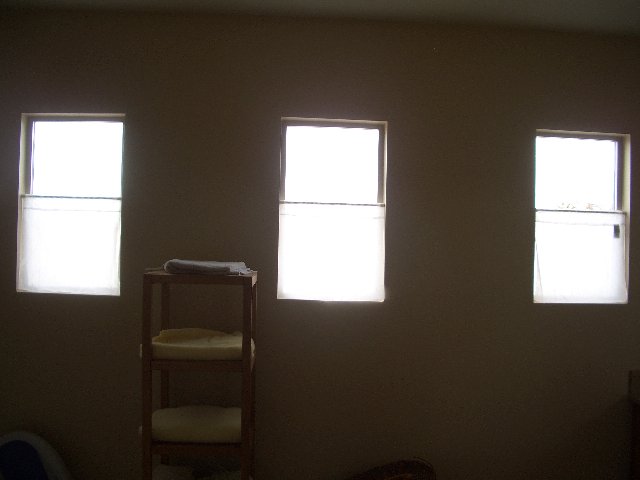 All three bathroom windows with curtains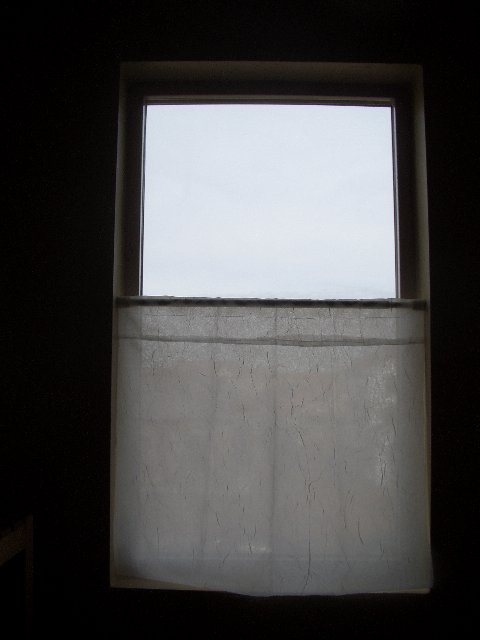 A closeup of a window. The curtain is hanging in an odd manner, so the bottom doesn't look even (it is even).
I doubled a sheer material to make the curtains since both Gabe and I like the natural light. A single layer of sheer didn't inhibit the view into the bathroom from the street as well as I wanted, so I doubled the material. Originally I was going to cover the entire window, but it made the bathroom feel smaller. So, I only covered the lower half of the window to keep open feeling of room.
I am copying this idea from Nicole's blog. I wanted to do a newborn picture and then take a picture every month with the 12 month outfit to monitor his growth. I was a little late taking the pictures and posting them.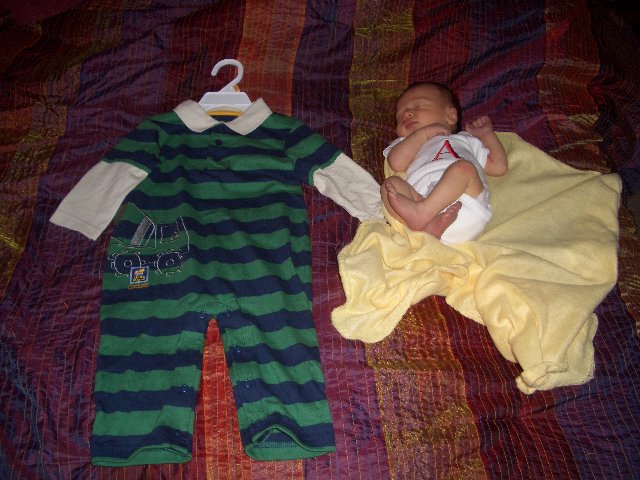 Alex 1 Week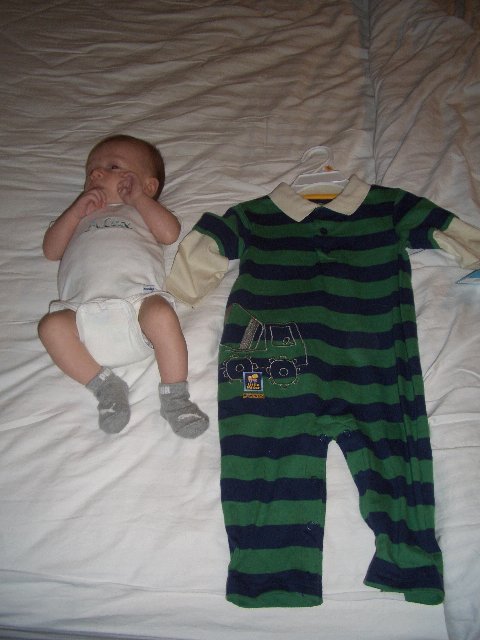 Alex 6 Weeks and 2 Days
1. Update Magazine Addresses...I am up to date!
2. Start packing. I have a feeling this will be a multiple day process. Umm...I tried and Alex kept waking up. Basically, I ordered him some more warm outfits. I am really going to start packing today! After I post this entry...and find my camera.
3. Work on room downstairs. If we ever get our house together I will post pictures. I am hoping Gabe and I can get started tomorrow. If I finish packing I will start this today too.
There are a lot of other things on my list that I don't post on the blog (ex. return Wal-Mart and Fry's items...I did both of these yesterday). So, even if I don't accomplish my blog goals I still do things during the day :)