CE
Gabe is downstairs giving the dogs a bath. I am upstairs with Alex (he is sleeping) trying to figure out if I want to go to an optometric conference next weekend to pick up a few CE credits. Initially, Gabe and I both decided that it would be too soon after having Alex to go, but now we both think it would be fine. I don't know, I am still undecided. I could just wait and go next year to the AOA conference in D.C. There is also a conference in March of next year in Australia. Australia sounds like a lot of fun. Hmm...I wonder if I could use my frequent flier miles for a free plane ticket. That makes Australia sound even more appealing. After I finish here I am going to do some research on the matter.
Just a few more days until the house is ours. We get to start moving in on November 18th. That also happens to be my mom's birthday. Gabe, Alex, and I went to look at the house on Thursday. Things are all in place. They have a few finishing touches before it is turned over to us. Mainly, they need to do some touch-up painting.
We watched Journey to the Center of the Earth last night. It was really good. I was surprised at just how much I liked the movie. It kept me entertained and the time just flew by while watching the movie.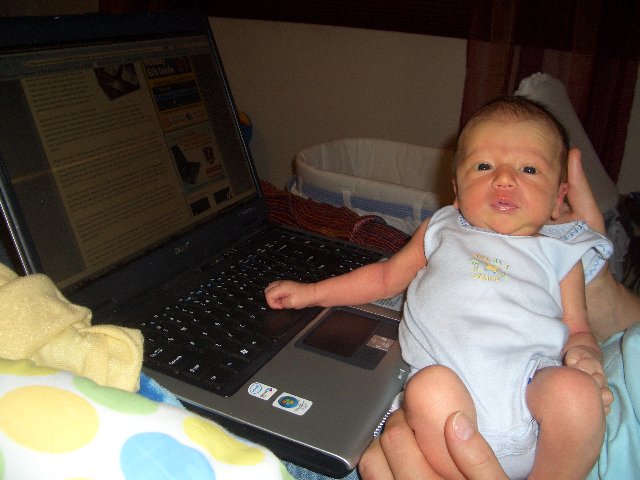 Alex working on the computer.