My Spin on 25 Days of Christmas & December 1
Along the lines of Ali Edward's 25 Days of Christmas, I am doing my own spin on the idea. I have a scrapbook with one page for the first 25 days in December. I am going to add one photo or item for each day. To help this project along we are going to do one holiday related activity everyday in December. Some must be done on certain days (ex., open Christmas presents) and some can be done on any day in December (ex., learn about Christmas traditions in another country). I am pretty excited about this little project. At a minimum, I will try to post our activities on a weekly basis. I have also been considering going back and adding activities since Thanksgiving because I couldn't wait to put up the tree and Alex has already had his picture taken with Santa.
Our activity for today was going to Zoo Lights and having our picture made with Santa. Alex loves to look at all of the Christmas lights. He was really excited to have his picture made with Santa until he saw the little girl in front of us sit on Santa's lap. He started crying. So, we have a family Santa picture this year.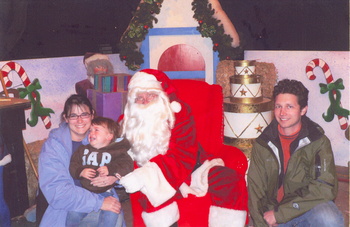 The Family Santa Picture.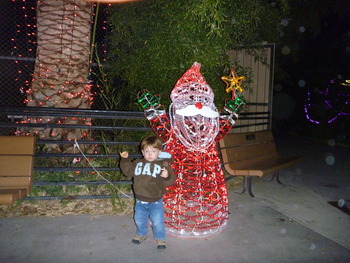 Alex and Santa (I have a similar picture with this Santa from last year.)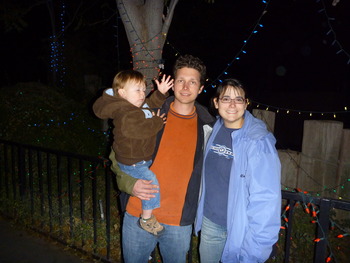 Here is a link to the 2009 Daily December activities.
Please consider sending Jimmy a Christmas card.