Haircut
This past week was pretty low key. I went to a current events meeting on Tuesday and scrapbooked with Katie (I am still on September 2009). Wednesday Myra and Anya came over for dinner. Thursday was a trip to the dentist for both Gabe and me. Friday I went to a jewelry party with Carrie. Saturday Alex had his first haircut. We went Darryl and Michell's for dinner. Sunday we relaxed. This past week we spent a lot of time outside playing in our yard, taking walks, and going to the park. Alex would spend all day outside if we would let him.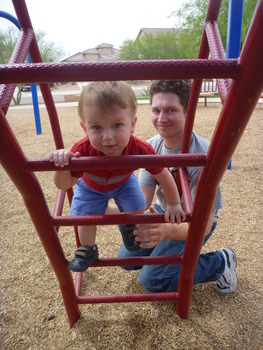 I finished reading Mudbound by Hillary Jordan. It is pretty interesting.
I am almost finished with The Time Traveler's Wife. I like the ending of the movie better than book.
I have a lot to finish today, so I had better get going.