The First Easter Egg Hunt of the Season
Wednesday night a group of us went out for Dawn's going away party. We had dinner at a nearby casino and we had hoped to play Bingo (yeah, we are so wild and crazy). Apparently there is no Bingo on Wednesday so we played the slot machines instead. I lost $5.00, but someone in our group won $160! Dawn and her family are leaving tomorrow.
I went to Dawn's house on Thursday to help her with last minute cleaning and packing. Alex and I had to leave earlier than I had anticipated due to nap time. We went back over after Alex was up and had a snack. I am sad to see them go, but they will be moving very close to my family. We will be able to visit them again when we are back in Illinois. Gabe, Alex, and I also filled out brackets for the NCAA tournament. Some of Alex's choices are different. If there are a lot of upsets he has the perfect bracket.
Friday we went to the park with Cindy and her son. After some time in the swing, we headed to babytime at the library.
On Saturday, we went to an Easter Egg hunt. Alex had a great time running around, picking up eggs, and placing them in his Easter bucket. Luckily, we have two more Easter Egg hunts.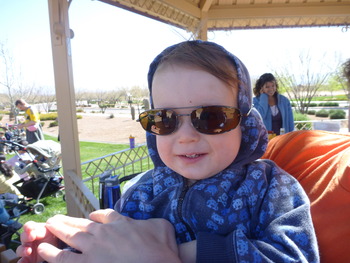 Alex looking cool in his dad's sunglasses.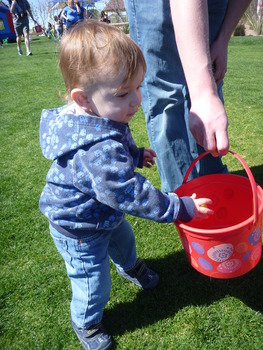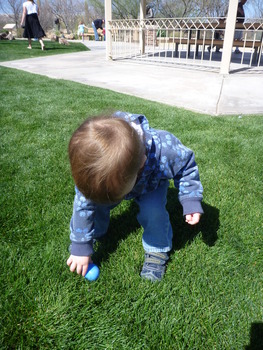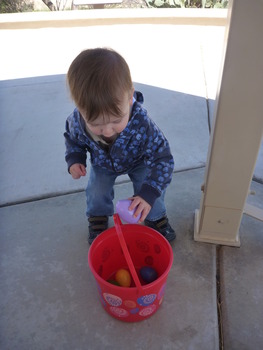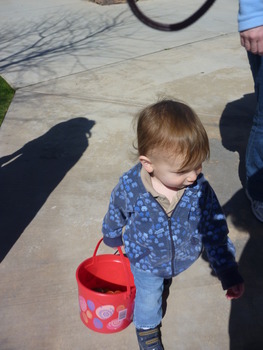 I finished Percy Jackson and the Olympians: The Sea of Monsters, by Rick Riordan. I recommend this series to anyone that is a fan of Harry Potter.