Mechanical Bull
I really need to catch up my blog. I sat down a few days ago to write an entry, but Alex came in the office and wanted to play. So, I did not get around to the entry, but Alex and I had fun!
Last Friday, I went to an outdoor high end shopping mall with a friend. I had never been there before, but it reminds me a little of a mall we used to go to in Illinois. I bought another knife rack from Williams-Sonoma. We currently have one, but were in desperate need of a second.
We had guests over for dinner on Friday. Mike, Dawn, and their kids all came over for fajitas, rice, beans, chips, salsa, and cupcakes. The idea for the mint cookie cupcakes came from Pleasant Home. To make my clovers, I printed an image of a clover about 12 times on a piece of paper. Then I placed wax paper over the paper and used the images as an outline to pipe the green white chocolate.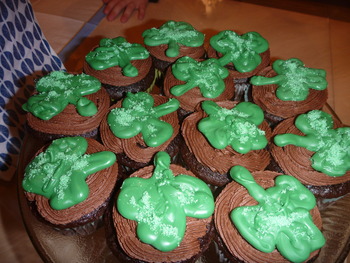 Saturday was a lot of fun. We went to the rodeo festivities in our neighborhood. Alex even sat on a mechanical bull. The activities were free, but Alex is still a little small to do most of them. Next year I think I might give the mechanical bull a try.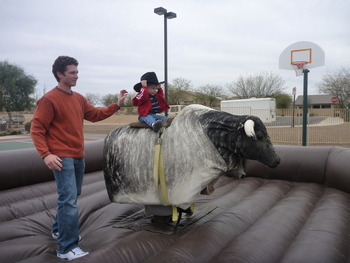 Alex on the mechanical bull. They even let him borrow a hat for the photo.
Sunday we went over to Kevin's house for lunch. After lunch Gabe, Alex, and I decided to look for snow in the mountains. We know there are certain locations where you can definitely find snow (we can see it from our house on the mountain tops), but we decided to be more adventurous and look near Gabe's work. We didn't find any snow that was accessible for us. We ended up at Target and we bought a 1,000 piece puzzle to work on.
On Monday I took Alex to a couple of playgroups.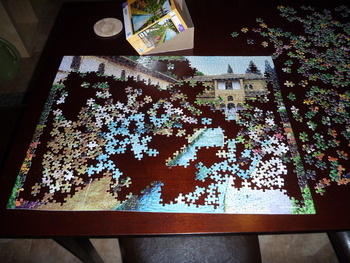 Here is our puzzle on Tuesday. We work on it for a little bit in the evenings.
I got my allergy shots on Wednesday and then I picked Alex up from school early. We met Katie and Kimmy for lunch at a 50's style diner. Then we went to the mall to buy Alex some new shoes. While I was there, the sales associate told me that a sale would be starting tomorrow. The shoes would all be buy one pair, get one pair half off. So, I left empty handed with the hopes of returning Friday. I went ahead and had him fit for his shoes so I would know the style and size to buy when I returned. Shoes are expensive, so I will gladly take any sale I can get on them.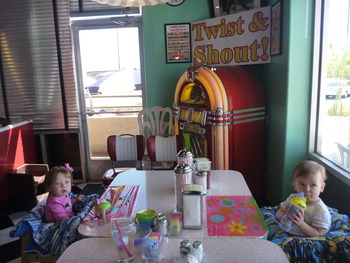 Kimmy and Alex.
Yesterday (Friday), Alex and I met Myra and Anya at the zoo. We had fun looking at all of the animals and Alex especially had fun climbing on and off of a rock in the children's play area. Before heading to the zoo we went to the mall and purchased Alex's shoes. I bought one pair for now and one pair for later. Both pair of shoes are cute on, but the "later" pair is extra cute. They look like little hiking shoes.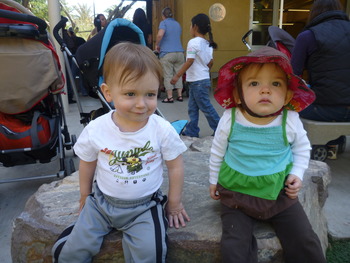 I think we are going to relax today. I need to run some errands (including picking up a book at the library) and then hopefully just enjoy the weekend. Speaking of books, I finished Run for Your Life. It is part of the Michael Bennett series of books by James Patterson. He is a detective in New York City and it did not disappoint.