Olympics
I just finished adding the dishes from dinner to the dishwasher and Gabe is putting Alex to bed, so I have a couple of minutes. We have been staying at home since the pneumonia diagnosis. Alex's surgery is on for Tuesday at 6:30 a.m. and we are trying to keep him away from people until then. We simply don't want to risk another infection right now.
Alex still has a cough, but we were told that the cough can linger for a month after the pneumonia is gone. Alex has been off of medication to control his fever since Wednesday. No fever is a wonderful thing. Gabe is doing much better too. Both Gabe and I have a cough if we talk, so our house is pretty quiet. We do talk to Alex though. I wouldn't want him to think we are ignoring him.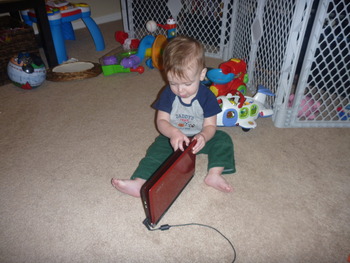 I just thought I would throw in a random Alex picture. He loves to "use" my computer.
We watched the opening ceremony for the Olympics on Friday night. In honor of the start of the Olympics, I made Olympic pizza. Basically, you make a rectangle shape pizza and put your topping on the pizza in the shape of the Olympic rings. Ours were all pepperoni because I didn't have the time to chop up the veggies, but next time I think I might use different veggies to represent the different colors of the Olympic rings. Next time might just be the closing ceremony.
Alex also colored a couple of hearts for Valentine's day, a couple of Chinese New Year pages, and a curling coloring page. We were in Ireland for the last winter Olympics. Due to the time difference, some nights we would be up late watching T.V. The British channel always had curling on late at night. Those Brits love their curling. I haven't seen it on here this time, but I will be sure to watch it if it is broadcast.
Last night I went on a sewing frenzy. I made Alex two hooded towels, a couple of sweater pillows, two eye chart pillows, and two Christmas Presents for my Grandmas. I ran out of stuffing by the time I made it to the eye chart pillows.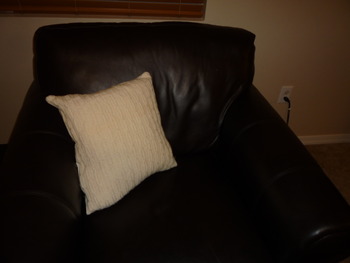 I made two pillows out of one of Gabe's sweaters with a hole in it.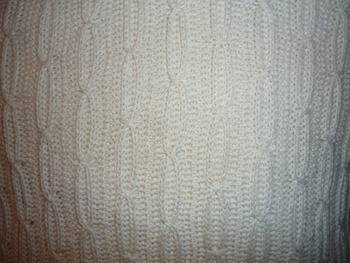 Closeup.
Today we celebrated Chinese New Year by having chicken chow mein for lunch. I was going to make chicken won ton soup, but the chow mein was just easier. We celebrated Valentine's Day tonight with steak, salad, green beans, and sweet potatoes. Apparently Alex really loves sweet potatoes. He ate all of mine and he had already had dinner. I am not a big sweet potato fan, but I guess I need to start making them more often. For dessert I made Congo Bars...yummy!
I finished reading The Guernsey Literary and Potato Peel Pie Society. It is a great read. It goes through the occupation, of the Channel Islands during WWII.
I am off to watch some more Olympics.