Not 70 Degrees
We spent Friday getting ready for getting ready for my Southern Living at Home Party and getting ready for our trip to Illinois.
We left for the airport at 5:30 a.m. on Saturday morning and by the time we made it through security and the security check for all of my liquids for Alex we walked to the gate right after our group had been called. Alex was okay on the flight. We received comments on how great he was. We had lunch at Pancho's and we stopped by my old place of work before heading to Gabe's parent's house.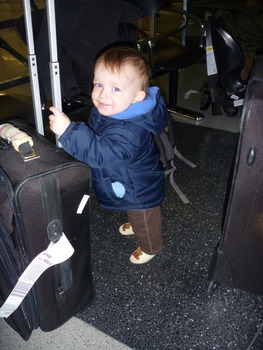 Alex and a suitcase at the airport.
Yesterday we all went out to a German Restaurant for dinner to celebrate Gabe's birthday. Today Gabe's sister and I made cookies. Okay, we were both supposed to make cookies, but it ended up with his sister making the cookies and I held Alex the entire time. Tonight we celebrated both Gabe's sister and Gabe's dad's birthdays. I will be heading to my parent's house soon. Alex will be going with me and Gabe will be staying so he can work the rest of the week.
On a side note, I think that Alex misses the 70's.