Finished Quilt
I picked up the new book for my book club today. We are going to read The Master Butchers Singing Club. I still have about 200 pages left of The Lost Symbol. I have to finish it by Tuesday, then I will start on the book club book selection.
Today was shot day for Alex. So, he is pretty tired and went to bed at 7:00 p.m. Usually his bedtime is 8:00 p.m. Since he went to bed so early, Gabe and I picked up the house and watched some TV. I finished my Grandma's quilt for Christmas. I am almost done with my Christmas shopping. I still need to order something for one of my nephews and make two presents for my brother. I am waiting on a picture to finish my brother's gifts.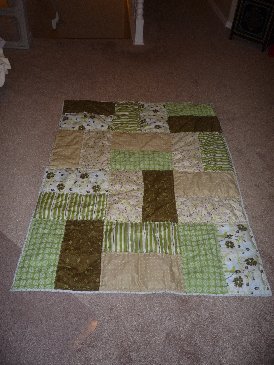 My Grandma's Christmas present.