Pool Time
Monday Alex and I met K and her little girl K for some time at the pool. The heated kiddy lagoon was too cold for us to stay in very long. The umbrellas that block the UV also block the water warming rays of the sun. So, we went in the regular pool and it was nice and warm. It is still in the 100's here, so swimming is still a way to cool off and Alex loves splashing in the water.
Wednesday Alex and I met DD and two of her kids for some time at the park in our neighborhood. We have decided to throw a fall party in November. We were going to have a Halloween party, but we figured it just wasn't in the cards this year. They will be taking a vacation near the time that we would have the party and Alex has a birthday around the same time. So we decided to have a fall party in November instead. It should be a lot of fun.
Friday, J came over to play with Alex for a little while. She will be watching him while Gabe and I are watching Spamalot next Friday. Alex seemed to have a good time playing with J. Friday night we went out to dinner with Josh & Amie. We had yummy Mexican.
Saturday, Gabe, Alex, & I went to the University of Arizona's Art Museum. We were surprised when we found out they were currently offering free admission because half of the museum was undergoing an exhibit change. It was fun and hopefully we can make it back sometime once it is fully open again. After the museum we attended a birthday party for KA at MA and DA's.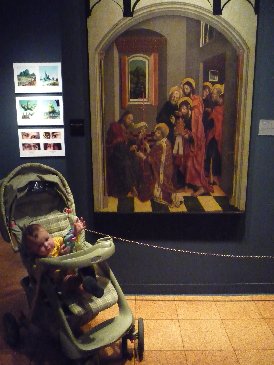 Alex hanging out with the art.
Today we went to Phoenix in search of a KB Toys. We went to the mall it was supposed to located in and they were no longer there. Someone told us they moved to anther mall, but we were unable to find it. We did manage to find a good deal on some clothes. I found some shorts for $4.00 marked down from about $40. The stores are placing their summer clothes on clearance to make room for their winter collection. Umm...do they realize it is still in the 100's here and we still have months of warm weather left (okay, really we don't get too cold). The sales associate explained to us that people from Canada come down and buy their winter clothes. I was wondering who would actually wear all of the warm thick coats. We still have enough winter clothing from Illinois to suffice if we travel somewhere cool. We had a yummy lunch at Chipotle. After Phoenix, we met up with MD,DD, and their three kids for some bowling. I am much better at Wii bowling. Then we went out to eat at one of the only places that is open late on a Sunday (by late I mean after 5:00 p.m.)