Las Vegas (Wednesday - 09/30/09)
We left for Las Vegas today. I have a conference to attend. I still need a few TQ CE credits. Basically, it amounts to listening to a 2 hour lecture and taking a test to see if you actually paid attention and learned something. I have quite a few hours I will be attending.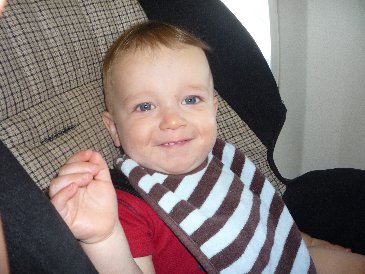 Alex on the airplane.
Once we checked into our room, I changed clothes. Gabe, Alex, and I grabbed lunch at the Grand Lux Cafe and then I went to class. Gabe & Alex headed to the airport to pick up Gabe's parents and then to Target to get some necessary supplies (i.e., diapers, baby food, etc.). I joined them again in the evening and we went to the buffet at the Wynn for dinner. Since this is our hotel, we didn't have to go very far for dinner. I think I got my monies worth at the dessert portion.
I was pleasantly suprised when Gabe's mom gave me several baby blankets for Greyson's Gift. Be sure and check out the website and/or my original entry to see how you can help.