Busy
We have been pretty busy lately...even more that normal. Wednesday, July 1, I went to a Pampered Chef party. Alex stayed home with Gabe.
On Friday, July 3 we went to the Old-Fashioned Independence Day Festival. We had a lot of fun. We decided to watch the fireworks from home instead of the festival. We had a pretty decent view out of our extra bedroom window. Alex really enjoyed watching the fireworks, but I think he might not have enjoyed them quite as much if he would have heard the boom. We decided to watch them from home so things would be more quiet and less hectic.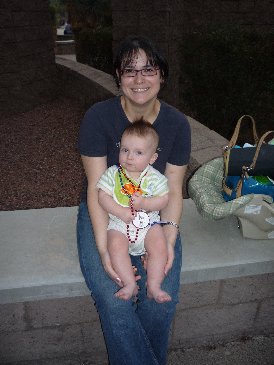 Alex modeling his beads.
We had lunch with Kevin at a Greek restaurant on the Fourth of July. We were actually late due to some confusion at Babies R Us. We bought Alex a car seat and when they went to get it out of storage for us, they couldn't find it. It took them 40 minutes to decide that their inventory system had not been properly updated and they did not have the car seat that we had paid for. Apparently the stores have two inventory systems. One system said that they had 1 car seat in stock and the other system said that they had -1 in stock. So, they ended up ordering one for us. I would not have minded the situation that much (we saved $80 on the car seat) except it made us late for our lunch date. Everything worked out ok and Kevin was pretty understanding.
During the evening of the fourth we had Mike over for dinner. We grilled hotdogs and hamburgers. We also had pasta salad, chips, and apple pie with ice cream for dessert. Alex went to bed and as we sat outside eating dinner we watched fireworks from our back yard.
Monday I went over to J's house for some socializing. There were quite a few people there and we snacked on yummy low calorie desserts. I made yummy chocolate mint cookies. I forgot to take a picture, but I will post the recipe in a different post.
Recent we have watched a few movies. We watched the entire first season of True Blood. It is about vampires that have come out in society and they are now seeking equal rights thanks to the invention of True Blood. It is a blood substitute that fulfills all nutritional requirements and stops the need for vampires to feed on humans. The main character is Sookie Stackhouse. She can hear people's thoughts and really has an interest in vampires. Her brother, Jason, just seems to always be in the wrong place at the wrong time. Bill, a vampire, becomes Sookie's love interest. The series is based on books by Charlaine Harris.
We also watched Babylon AD. It was a much better movie than I had expected. Vin Diesel takes a job to smuggle a girl to the United States. We are currently watching Insomnia. It is doing a great job of keeping my interest (I always do two things at once). Al Pacino is sent to Alaska to investigate the murder of a girl. He kills his partner while attempting to apprehend the suspect. He does not admit to what he has done. While dealing with his guilt he is still trying to catch a murderer.