Garage
On Saturday (April 4) I decided we were cleaning out the garage. We got a head start by working on it a few hours on Friday night. We finished it Saturday! We had a ton of recyclables, some trash, and a truck full of items that we donated to the local thrift store. Gabe had to wait until trash/recycle day to be able to park his truck in the garage, but it is there now!
My parents flew in on Tuesday evening. Wednesday we went to the mall and did some shopping while Gabe was at work.
Friday morning Gabe and my Dad dropped Elsa and Clara off to get their teeth cleaned and we all headed to Tombstone. We walked around the downtown area and had dinner at a local restaurant.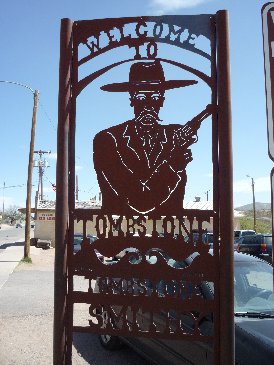 Tombstone Sign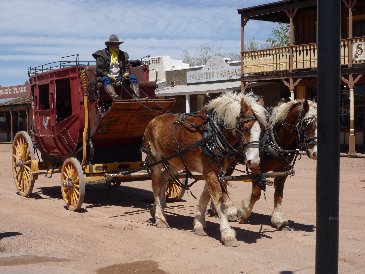 Tombstone Carriage Ride Tour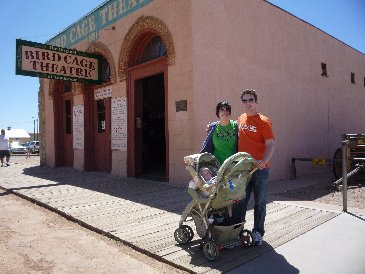 Bird Cage Theatre
We were stopped by the border police on the way back. I think that was my parents first border check. We came back and picked up the dogs. They have a follow up appointment in a couple of weeks. When we came back from Tombstone our yard was mostly finished. There are a few finishing touches here and there that should be completed this week. So, I am going to hold off on posting pictures of our yard until it is completely done.
We went out to dinner at Solaris on Friday night.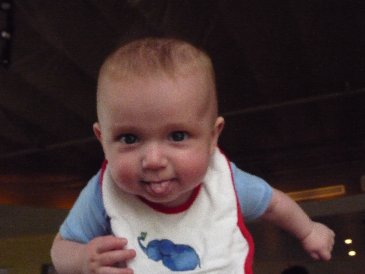 "Air Alex". He likes to stick his tongue out when he "flies" through the air.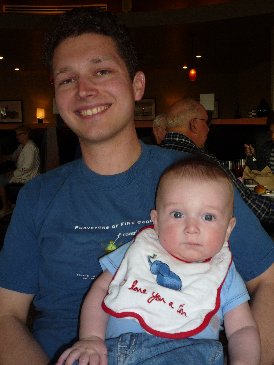 Gabe & Alex at Solaris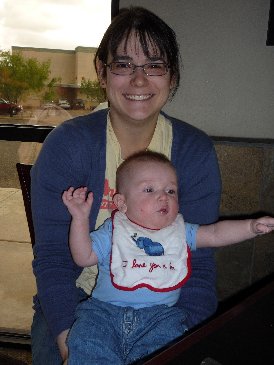 Stephanie & Alex at Solaris
Saturday night was a lot of fun. We played Wii and had prime rib. Yummy! They left bright and early on Sunday morning.
We worked on organizing things in our house Sunday. Gabe managed to hang one of our two outdoor ceiling fans and we rearranged our patio furniture. We had some leftover prime rib, so we had it for Easter dinner. If things weren't so busy, we might have invited some of the other people from Illinois that are living in Arizona over for Easter dinner. Maybe next year.
We didn't take Alex to have his picture made with the Easter Bunny this year. So, I snapped a picture of Alex with one of our decorations.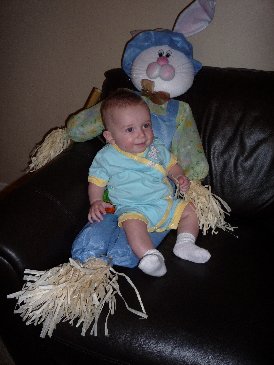 Alex and bunny.
Yesterday we dropped my car off at the dealer. I need a new fan belt. I received a phone call this morning and they informed me that they don't have the part they need. So, I will be without a car until Wednesday evening. I was going to the post office, grocery store, drug store, and Wal-Mart today, but it is a little difficult without a car. I guess we will be running a few errands once Gabe gets home from work. At some point I will post some pictures of our house. Most likely it will be sometime next week. We are getting ready for our party this Saturday (the one we previously canceled due to illness).
I have recently started using Google Reader and I love it. Instead of having to look at all of the blogs I read, I can quickly go to the blogs that have new posts. An added plus, I can post to blogs that only allow individuals with blogger accounts to comment.
I hope everyone had a great Easter!