Safari Trail
Make sure and check out the Robots entry. I added a couple of photos.
We did manage to watch Twilight on Monday, the 23rd. It was pretty good. I think I need to watch it again.
Tuesday Alex became ill. He started throwing up and we put him on Pedialyte. He ended up in the emergency room at 2:00 a.m. Thursday. I couldn't go with Gabe to take him because I was at home throwing up every 30 minutes and running a fever. He was finally released at 9:00 a.m. after they give him anti-nausea medicine since he couldn't even keep Pedialyte down. Gabe started getting sick on Thursday, but luckily he only had the fever portion of the illness. We pretty much stayed inside and watched movies and basketball Thursday, Friday, and early Saturday.
Saturday we went to the Butterfly Garden and Safari Trail in our neighborhood. Safari Trail is a path with statues of about 24 different species of animals. There are probably more than 75 individual animals (multiples of some species). Along with the statue, there is a board that displays information about the corresponding animal. It is really neat and a lot of fun. We wanted to go to the Desert Museum, but we didn't feel like walking around that much. Plus, we were able to stay close to home.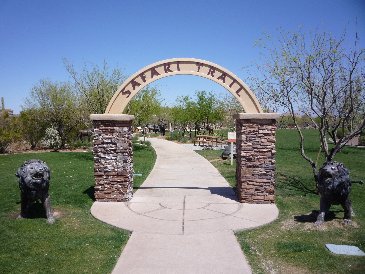 Beginning of Safari Trail. (As you can tell by all of the green grass, this area is landscaped and constantly maintained.)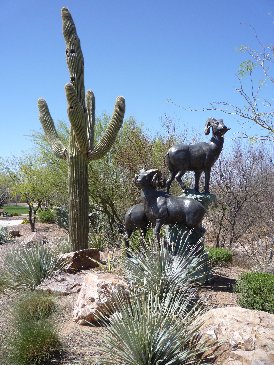 Desert Bighorn Sheep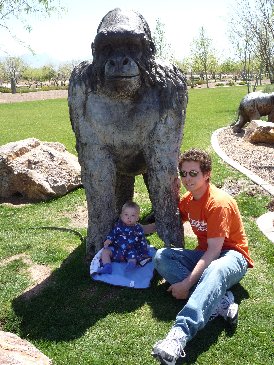 Gabe and Alex hanging out with the wildlife on Safari Trail.
We were supposed to have a party on Saturday, but we had to cancel it. We will reschedule, but I don't think all of the bread that we purchased will make it. Maybe we should donate it to a food bank. I started feeling normal again Saturday evening and Gabe was much better.
Today we are hanging out at home again. Gabe is pretty much back to normal and so is Alex. He has been back to full strength formula for about 24 hours and things seem to be going well. We might start working on the garage, though I am not holding my breath.
We decided on a landscaper! This is great news for us. Our backyard is currently just dirt. We had three estimates and the one we selected was the design we liked the most, the least expensive, and he can start the soonest! So, the landscaping starts on Wednesday. It should take a week to a week and a half to complete. Hopefully it will be ready for our rescheduled party.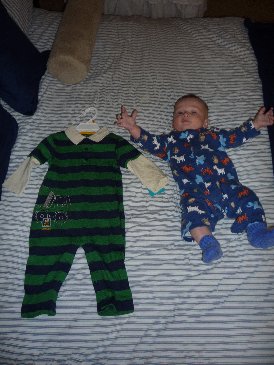 Alex 5 Months (next to a 12 month outfit).
I have been recording Castle after Dancing with the Stars. We decided to watch the show while we were all three sick on the couch. I really, really like it. It is about an author that helps solve murders. It reminds me a lot of James Patterson. I told Gabe this while we were watching and then James Patterson came up on the screen playing poker with Castle. I will be adding it to our list of shows.