I have been tagged!
Nicole tagged me in the fourth picture picture game. At least that is what I am calling it. Basically, this is how you play. Go to the fourth file in your picture folder. Then choose the fourth picture and post it on your blog.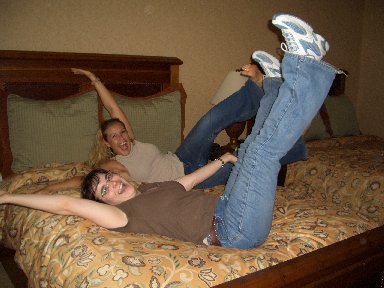 This picture is from 2005. Bree, Jenny, and I all roomed together at the American Optometric Association Convention in Dallas. Bree is in the back and I am in the front of the picture.
I am going to tag Rosanne (Bits of Life, Scrapbooking and Cooking), Maria (Busyness Girl), Andrea (My Chihuahua Bites), Betsy (Snips, Snails, and Mommy Tales), and Beckie (Infarrantly Creative). Feel free to play even if I didn't "tag" you. Leave a link to your post in the comments section and everyone can check out your fourth pic too.
*Wow, I really need to update my blog roll!*